Still So Hot by Serena Bell: Elisa Henderson and Brett Jordan met in college and became fast friends shortly thereafter. Their friendship began during an evening when Brett was seeking out a Scrabble partner, and Elisa just happened to be available and enjoyed the game. Over a very short period of time, they became inseparable, platonically speaking. Scrabble was their thing. One night they were both a little drunk and shared a mind-blowing kiss. Unfortunately, the kiss combined with some other difficulties caused their friendship to end. Now a few years later, they meet again, and eventually realize how much time they wasted without each other.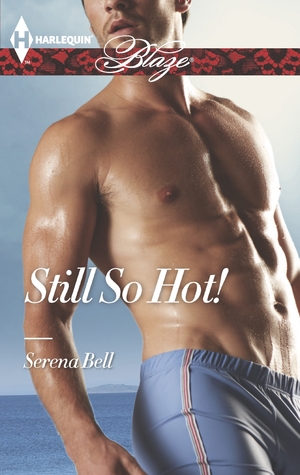 Brett has always been a womanizer, unable to commit to anyone for more than a couple of hook-ups. He is a smart, accomplished journalist, but has used his good looks as a crutch. Growing up, Brett's parents labeled him as the "handsome son" which contributed greatly to his present insecurities about his intelligence and the fact that he is constantly putting himself down. Once Brett is able to recognize himself as the complete package, he will be able to find love.
Elisa is a single, hardworking, personal dating coach, and she is using her skills to help Celine Carr, a wild, newbie celebrity find a date. Elisa's young and up and coming company could use some publicity and with Celine as her client, she believes she can tap into the celebrity marketplace. A destination dating boot-camp is planned for Celine, but when she arrives at the airport with her latest pick-up, Brett, Elisa's mind runs a muck.
Of course nothing goes according to plan. The plane ride is emotionally uncomfortable, the boot-camp is a bust, the paparazzi are out of control, Celine ends up falling in love all on her own and Elisa and Brett find themselves totally captivated by one another. Indirectly, Elisa has made two successful matches, Celine and herself. Hot, passionate sex is an understatement, when Elisa and Brett finally get together.
I found Ms. Bell's writing style to be clear, smooth and sensual. The love scenes between Elisa and Brett left me panting and wanting more. The underlying feelings between Elisa and Brett was always lurking and Ms. Bell does an excellent job of creating romance, understanding and love through her word choices and devotion to the characters. The supporting characters are well described and real, thus adding tremendous awareness to the circumstances of the plot. Overall Still So Hot! by Serena Bell is one steamy romance. The story is satisfying and the characters are likeable. Second chance romances are always fun to read and this one does not disappoint.
Book Info:

Publication: December 17th 2013 by  Harlequin Blaze (Book 781)
Your "Dating Boot Camp" Itinerary
Day One:
Fly to a luxurious, five-star resort in St. Barts with your personalized dating coach, Elisa Henderson. Show up on the plane with a guy you just picked up. Find out Brett Jordan isn't just a drool-worthy hottie with a rockin' hard bod—he's also a total player…and Elisa's former best friend!
Day Two:
Be problematic. Disappear with a cute paparazzo. Besides, Elisa and Brett are now alone in a tropical paradise, and Elisa's about to break the first commandment of date coaching: Thou Shall Not Sexily Ravage Your Client's Date. Lost clients, naughty nighttime shenanigans, sleazy paparazzi… Can Elisa avoid a complete PR disaster, or is her reputation about to get the boot?