Mistletoe Reunion Threat: Virginia Vaughan weaves quite a suspenseful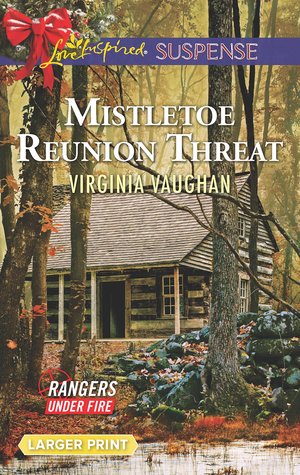 story, from the very beginning!
Ashlynn, a prosecutor in Mississippi is shot at a courthouse and her car is bombed, while in the process of heading home to her young son and his babysitter. She is also in shock after coming face to face with the man who fathered her son though he is unaware he has a child. Garrett rescues Ashlynn and brings her back to her home, only to find her son missing and his babysitter murdered in cold blood.
This sets off a nailbiting sequence in which they must try to stay one step ahead of a brutal cold blooded killer, and also trying to figure out the identity and motive of the killer. All while trying desperately to locate young Jacob. In the process Garrett realizes that Jacob is actually his son, which gives the desperate search to find Jacob even deeper meaning for him. Ashlynn is terrified especially when threatening notes reveal just why she is being targeted.
I recommend this to readers who are seeking a romantic suspense to keep them on the edge of their seats.
Book Info:

Publication: December 6, 2016 | Harlequin Love Inspired | Rangers Under Fire
Someone wants Mississippi prosecutor Ashlynn Morris dead…and they've taken her son to get to her. The only person she can trust to get him back is his father, a man who doesn't even know about their secret child. When grief and survivor guilt pushed army ranger Garrett Lewis to run out on their wedding five years ago, he knew he was leaving behind the love of his life. But a son? Finding out he's a father has him reeling, especially since his little boy is missing. But now the tormented ex-soldier has a new mission, one that can't fail. Protect the woman he's never stopped loving…and bring her son—their son—home for Christmas.