In Could've Said Yes (Thistle Bend #3) by Tracy March, Ellie London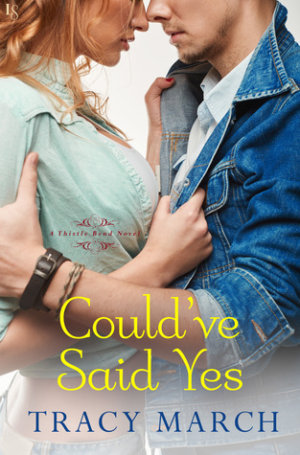 loves being back in Thistle Bend. She's finally free of her judgmental, cheating ex who didn't believe she could make it as an artist, and her dreams of being successful are finally starting to come true. However, meeting the handsome Collin Cooper throws her off-balance, especially since she's sworn off men. Yet, she can't resist the bet he challenges her with. Can they find a way to be together when Collin doesn't even live in Thistle Bend, or is their relationship doomed from the start?
"Want to make a bet?" A glint of challenge lit his eyes.
"Probably not," she teased.
"When you start working on that picture for me, keep it on the easel in the front window of your gallery. You'll sell more than one, no doubt."
Ellie rolled her eyes. "You haven't even seen the one I'm going to paint."
"I don't need to. Everything hanging in your gallery is killer."
EPA Inspector Collin Cooper needed a change of scenery after breaking off his engagement, and Thistle Bend seems like the perfect location, especially once he meets Ellie. She's everything his ex wasn't in the way she's independent, loves the outdoors, and couldn't care less about money. But when an accident surrounding the pollution of the local river puts Collin's job in jeopardy and has the whole town bearing a grudge, Ellie is there for him. But when Ellie learns the truth of what really happened, will she run away or give Collin a chance to explain, so they can have the second chance at love they deserve?
This series is the first I've read by Ms. March, but since reading book one (Should've Said No), I've come to really enjoy all of her novels. Just like the first two books of this series, this story took me by surprise with its plot twists, wonderful characters and the growing relationship between Collin and Ellie. Indeed, all the way throughout I found myself smiling with the way the town match-makers wanted Ellie to find happiness and the well-written dialogue that was a perfect combination of intense and playful.
Ellie and Collin's back stories concerning relationships wasn't easy for either of them to talk about. Yet, when they finally do, it's their way of moving on from the past; a way that helps them realize that their failed relationships shouldn't stop them from being happy, if they can overcome the tough obstacles they face. Such as the fact that Ellie lives in Thistle Bend and Collin doesn't, and whether Ellie can forgive Collin for hiding the truth from her when it comes to his job.
"You sing?" she asked.
"Mostly in the shower."
"Then I should've had my ear to the bathroom door when you were in there."
He pinched the beads at the end of the tie on her blouse, and rolled them between his fingertips. "You should've been in there with me."
"What would you have sang to me?"
"No free previews," he teased.
Ellie is a really good heroine bouncing back from a relationship where her ex didn't appreciate and support her. She's not sure that taking a chance on Collin is worth the risk, but when it comes to the bet they make, she knows it's worth the price she'll pay, if things don't work out between them. Also, she's strong and brave in the way she approaches her work, and taking the chance that she does when the picture she's creating for Collin isn't something she normally paints. But what I liked most of all about the heroine was how hard-working she was when it comes to her art, which shows in what she achieves and the encouragement she receives.
While Collin, he's a wonderful hero with a good heart. He's kind and caring in what he does for someone he's come to count on as a friend in Thistle Bend. He's also hard-working and it shows with everything he's trying to do for the place he's come to inspect in Thistle Bend. Too bad he has some tough decisions to make that put his relationship with Ellie at risk. When the heroine learns the truth, can she forgive him?
Overall, Ms. March has penned another fantastic novel for her Thistle Bend series in this one, where the sex scenes were hot and illustrated the strong chemistry between Collin and Ellie really well. The way this story ended was perfect, because of the information Ellie discovers and the sacrifice Collin makes to be with Ellie. Then again, his sacrifice isn't a hardship, especially with the offer he was made from one of the secondary characters. I would highly recommend Could've Said Yes by Tracy March, if you enjoy second chance romances. I would also recommend the other books of this series, which are: Should've Said No; and Just Say Maybe.
Book Info:

Publication: December 13th, 2016 | Loveswept | Thistle Bend #3
Having recently returned to Thistle Bend, Colorado, Ellie London is working hard to make a living as an artist, and to get over her broken engagement. She's focused only on guarding her heart and healing her mind . . . until a cocky, undeniably sexy out-of-towner rides in on his motorcycle. Turns out, Ellie might have just found the perfect opportunity to prove to herself that she's over her cheating fiancé.
After his own engagement falls through, EPA Inspector Collin Cooper is eager for a change of scenery in Thistle Bend. His principle rule of the road is not to get too involved with a new woman—and yet he can't resist beautiful, outdoorsy Ellie. But when a local river becomes polluted under Collin's supervision, resentment floods the entire town, running even deeper with Ellie's family. With his job on the line, Collin needs to find a way to set things right—and hold on to the woman who has captured his heart.