Montana Cowboy Christmas by Jane Porter: Ivy Wyckoff is working in a rather rundown bar after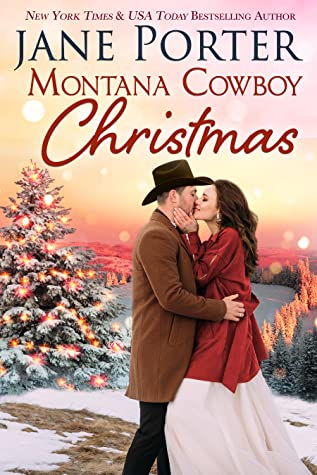 moving back home to Montana. She is a national barrel racer, but some choices she made have put her in a difficult position as the holidays near. One was a choice to help a young girl who had a disastrous riding accident. The other was to trust a boyfriend/manager who seems to have too tight a rein on Ivy's money.
Sam Wyatt, Ivy's ex-boyfriend, shows up one night at the bar and is shocked at her circumstances .
Sam has just come home for the holidays after having a great year on the riding circuit. He is looking forward to spending time with his family on their ranch. Sam and Ivy split up two years ago, but he still very protective of her. That is a good thing since Ivy's boyfriend/manager seems to be coming after her even after she tried to hide out.
The author shows us the main reason Ivy broke up with Sam is he always seemed to put his career first and her second. Ivy had more than her share of sadness from the past and it may be easy to understand how she felt neglected. At the same time, I got irritated at times with Ivy for her not wanting to let go of things from the past that she could not change and move on.
Sam is overall a kind and protective man, but you can see how his alpha nature would let him not notice how his choices and actions affected Ivy.
I have not read any Westerns in a while and did not realize how much I missed them until I read Montana Christmas Cowboy. The setting of Montana with its open spaces and snow at Christmas is just perfect.
Although this book is the second in a series it works just fine as a standalone. I hope to see more of the Wyatt Brothers of Montana soon.

Book Info:

Publication: November 10, 2020 | Tule Publishing | Wyatt Brother of Montana #2
It's almost Christmas and nationally-ranked barrel racer Ivy Wyckoff has returned home to Montana desperate for a miracle. A cowgirl to her bones, she's always solved her own problems, but when her ex—rodeo champ, Sam Wyatt—shows up offering more than a shoulder to cry on, Ivy's tempted to grab the safety line he throws.
Sam Wyatt just wrapped his most successful year on the PRCA circuit. After long days and even longer nights, all he wants is a quiet holiday on his family's Paradise Valley ranch…until he sees Ivy again. He can tell she's in trouble. They may have called it quits two years ago, but she's the one woman he regretted walking away from.
Sam will do anything to keep Ivy safe, including putting a ring on her finger and sharing his name with her this Christmas.