Snowed in with the Firefighter by Victoria James is the seventh book in her Shadow Creek, Montana series. This story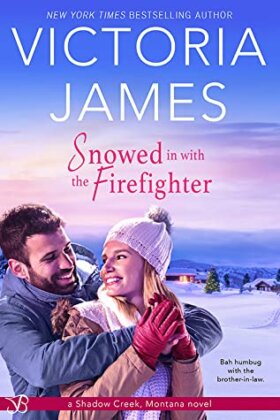 is about two people who have run away from their problems and find they actually have the strength to face them.
Melody Mayberry is an OB/Gyn doctor at Shadow Creek Hospital. She has an excellent reputation and never lost a patient or a patient's baby. Until now… She had never lost a patient's baby before until that day when she did. It was so hard to tell that mother that her baby was stillborn. Melody and her team did everything they could to save the baby. Melody's boss insisted she take some time off and pull herself back together. The perfect place for that – her sister, Molly's and brother-in-law Ben's isolated cabin. What they didn't tell her when they gave her the key to the cabin was that Ben's brother Finn was also staying there. The same Finn who embarrassed her when she asked him to prom and he told her "no." She has been avoiding him ever since. How was she going to be able to pull herself together with Finn there? To Melody's great surprise events turned out very different from her original expectations.
Firefighter Finn Mathews is recovering from a major injury he suffered during a house fire, the tragedy that almost took his life. He couldn't stand all the pity he saw in the eyes of his family, friends and the residents of Shadow Creek. Consequently he escaped to his brother Ben's cabin to rest, recuperate and attempt to get back in shape. So far his broken leg was healing okay but he was still in pain and limping months after the fire. The peace and quiet of his escape was broken by the appearance of Melody Mayberry. Just what he didn't need. Initially they both planned to keep to themselves as best they could. Funny thing though… they discovered they could talk about things they never told anyone else. And they found themselves attracted to each other.
Melody was raised by a thoughtless mother who wrecked Melody's self-esteem and fed her insecurities. Finn convinces her that she is so much better than what her mother had her thinking of herself. Melody made Finn understand that he could be something other than an active firefighter if that's what he wants. They give each other strength. There's not a lot of Christmas merriment in this story but the author tells the tale of getting her hero and heroine together well. My favorite scene in the book was when Melody and Finn go shopping for a Christmas tree.

Book Info:

Publication: November 2020 | Entangled: Bliss | Shadow Creek, Montana #7
Dr. Melody Mayberry's life just took a turn that's left her questioning everything. Where better to hide out than the remote family cabin in the mountains? The last thing she expects to find there is her swoon-worthy brother-in-law, the one man who may have more baggage than her.
Finn Matthews is not ready to face the fact that the recent injury he sustained in a fire may have ended his firefighting career. He's not interested in sharing the cabin with anyone, let alone Melody, and their family just texted with yet another unwelcome surprise—they'll be there Christmas Eve.
To keep their meddling family at bay, the two team up to fake a little holiday cheer. But between ridiculously competitive Monopoly games, marathon Christmas decorating, and a storm that strands them together with nothing but a fire and a warm couch, they realize something major—their fake holiday cheer isn't feeling so fake anymore, and that's something neither of these two Grinches expected…