In More Than a Cowboy by Cathy McDavid, Liberty Beckett always believed that she was a product of her mother's affair with some guy at the rodeo. At least that's what her mother always told her. But when a cowboy tells her he clearly remembers her mother and father being together when she was conceived, she has to wonder if her mother has lied to her her entire life and what she is going to do about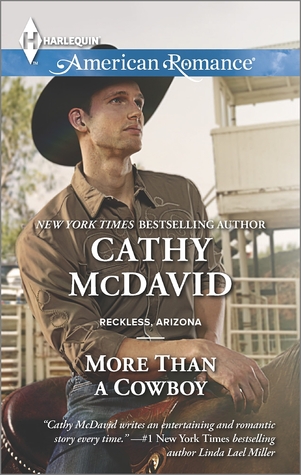 it. So she decides to contact her father, the only father she always believed to be and find out the truth once and for all.
Only as she is waiting for him at the diner, Deacon McCrea arrives and sits to wait for someone himself. Liberty has had a crush on Deacon McCrea since her teen years. She is so used to loving him from afar, that she completely forgot that he is also a lawyer. That is until he starts representing her father in a lawsuit against her mother and threatening the Easy Money Rodeo Arena.
Deacon had to leave Reckless, Arizona after being blamed for an accident that happened at the arena that injured another rider while he was working there. He had a tough life after that, but he is now a lawyer and is happy with his life. Well except that he needs to clear his name once and for all, and the only way he can do that is to investigate in depth about who was in the arena that day and if someone saw anything.
But things are not always as they plan, for Deacon likes Liberty, and taking her father as a client will put a stop to anything that could happen between them. Only still being blamed by everyone for something he didn't do while trying to get clients is not helping him. So Deacon makes the tough choice, and represents her father, only to learn that Liberty is interested in him too, and moving things to the next level will be a conflict of interest.
Well we all know that ignoring the chemistry can only last so long. And with Liberty helping Deacon as much as she can with anything he needs for his case and for finding out the truth behind the accident that happened a few years back things are bound to start moving forward between them whether they want to or not. Which Liberty clearly wants, even if she has to find a way to convince Deacon.
Well what can I say, More Than a Cowboy is intense in many ways. The family drama is huge, Liberty's mother doesn't want anything to do with her father in any way, then there is her sister who hates and resents her father more than the situation deserved. Leaving Liberty wanting to bring her family together but not knowing how. Then there Deacon's dilemma, he needs to clear his name once and for all with Liberty's mother and everyone in town, he has to represent Liberty's father, but at the same time he wants to be with Liberty. Can you say complicated? Well then there is the real culprit behind the accident, he will not accept what he did easily and he will make things hard for both Deacon and Liberty.
I can tell you this was an emotional rollercoaster and deep read. It had me wondering about so many things that I almost just wanted Deacon and Liberty to elope and forget about her family and their drama. But that would not have brought me the fulfilling and great feeling of the HEA they got in the end. I just hope I get to see Liberty's sister get her own HEA and forget about her bitterness.
If you want a deep and emotional read, don't miss More Than a Cowboy by Cathy McDavid.
Book Info:

July 1st 2014 by Harlequin American Romance Series #1508
LOVE OR FAMILY LOYALTY?
Liberty Beckett was so used to watching longtime crush Deacon McCrea ride at her family's Reckless, Arizona, arena, she nearly forgot the handsome cowboy was an attorney. But it won't be hard to remember now that Deacon is representing her father in the legal battle dividing the Beckett clan and threatening the Easy Money Rodeo Arena.
This case is Deacon's chance to clear his name in Reckless. He didn't anticipate the powerful effect Liberty would have on him. Their attraction is undeniable…and a huge conflict of interest. To save his career and Liberty's relationship with her family, Deacon knows he needs to avoid Liberty. But what a man needs and what he wants are two very different things….