Mr. One-Night Stand by Rachael Stewart: Out of character won't come back to bite you, right? After all it is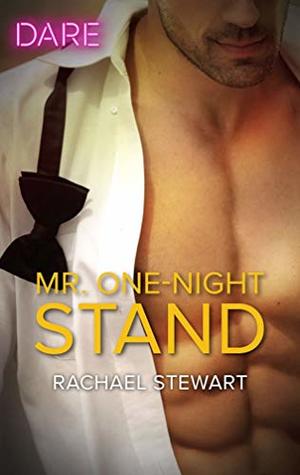 only once, only one night.
At least that is what Jennifer Hayes thought. After the day/week/month she had been having she deserved this. One night, one night of pure unadulterated fun. She NEVER did anything like this and with her world crashing in a one-night stand with a man who looked like sex on a stick and lit her world on fire was just what she needed.
Marcus Wright wasn't sure what it was about this woman. She walked in the door and his need was immediate. He hadn't had companionship in a while and she just did it for him and after talking with her for just a few he knew they were on the same page. He was certain one night, that was all he needed and all he wanted.
However best laid plans and all of that? Yep they both wanted more and the problem was more that they were going to see each other a LOT more soon. How can they handle the explosive nature of their relationship in the in the bedroom and the boardroom?
Wow! This is a HOT story from Ms. Stewart…. The characters though pull you in from the beginning and make you start to care about not just their relationship together but their relationship with the secondary folks. That actually would be the only complaint is that the story leaves you wanting just a bit more, from the outside. It is a complete HEA and does wonderfully at that, but Ms. Stewart writes so well she leaves you wanting just that bit more, almost like when you eat a piece of cake that should be more than enough and yet you still see more and therefore just want a bit more of a taste. If you like heat, love complex characters and HEA's pick this one up and you won't regret it.
Book Info:

Publication: March 1st 2019 | Harlequin Dare |
One night only.
Just think of the possibilities…
The second she sees Mr. Oh-So-Delicious, Jennifer Hayes knows she needs one night of crazy. No names, no strings, no rules. Except that Jennifer's naughty one-nighter is actually Marcus Wright—her new business partner! Now they're mixing business with all kinds of pleasure. But when it comes to falling in love, her sexy Mr. Wright is either Mr. Wrong or the best mistake of her life…