In The Soccer Player and the Single Mom (Quail Hollow #1) by Kyra Jacobs, when Felicity Shaw is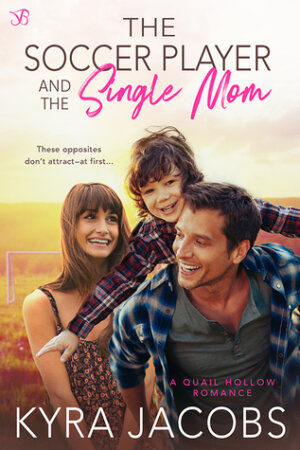 offered a job to be the personal assistant of soccer star Scott Gillie, she agrees because she needs a job. However, she never imagined he'd be such a difficult person to work for. Still, she's not about to let him get to her. Yet, the more time she spends with Scott, the more Felicity finds herself falling for the stubborn man. Will Scott and Felicity be able to put their trust in each other in order to achieve happy ever after?
"It's, uh, been a few years since I've done anything like this."
"Drove through the woods after dark?"
She issued a small, nervous laugh. "That, too."
"You don't give yourself enough credit," he said.
"Enough credit for what?"
"Pretty much everything." He leaned back in his seat. "You're funny, smart, caring…sexy as hell."
What a fun, delightful and engaging read Ms. Jacobs has delivered in this book where the growing relationship between the hero and heroine had me smiling at various times throughout, as this pair go from enemies to lovers and try their best to avoid the not-so-subtle matchmaking efforts of the hero's grandmother. Will his grandmother's matchmaking efforts work? However, it was the way this story started that drew me in quickly and had me liking the heroine immediately, as she's a good mom that's facing quite the struggle after what happens. Really, she's just lucky she's given another opportunity so soon; a good opportunity that would allow her to be able to give her son more.
As for the dialogue, it was entertaining and a wonderful combination of playful banter and intense moments that had me interested to know more about the main characters back stories and whether the heroine would be able to do her new job without too much resistance by the hero. Will the hero accept that Felicity is his new PA sooner rather than later? How will the heroine deal with the hero's reluctance to her being his PA? Moreover, I really liked the heroine. She's resilient, courageous, feisty and I liked that she didn't give in to the hero's every demand because she needs the job she's been given as his PA. I also liked that she gave the hero a chance, even though that isn't easy for her to do after everything that's happened in her life. Can she trust the hero to do right by her and her son, especially when her son is a total fan of his and already worships him? What happens if he ends up disappointing her, which could end up hurting her son?
"Then by all means, go be the hero."
"I'd really rather not." He kissed her one last time – enough to leave her breathless – then reached for his crutches.
"Do you think she knows? Edna?"
"Nah. But if a minister turns up for dinner one of these nights, that's our cue to run."
She laughed softly as he made his way down the hall. There would be no minister and no need to run. Lip service, literally, was all this was and all it ever would be. Instead of feeling guilty about it, she headed for her room savoring the tingle on her lips.
While the hero, I couldn't help but sympathize with him because of all that he's going through. His career means everything to him and being on the sidelines is absolute torment. His team need him and he needs to be out on the field playing. Will he ever get back to playing or is his injury too much for him to ever get back to one-hundred percent fit? Will the heroine be able to help him by finding him ways to connect with fans so that they don't forget who he is while he's out? Furthermore, the hero is resilient and I liked how he pushed himself in order to be able to play soccer again, even though he could have very easily ended up re-injuring himself. I also liked the growing bond between the hero and the heroine's son, which was adorable and melted my heart. He's really good with her son, which is proven by everything he does. Yet, what I liked most of all about the hero is that he gave a relationship with the heroine a chance, even though he knows he could very easily break her heart because he'll be leaving once he's healed from his injury.
Overall, Ms. Jacobs has delivered a really good read in this book where the chemistry between this couple was strong; the romance was on the sweet side; and the ending had me loving the hero's determination to win back the heroine, especially after what happened that caused their relationship to go awry. Will the heroine be able to forgive him? I would recommend The Soccer Player and the Single Mom by Kyra Jacobs, if you enjoy the enemy to lovers trope, boss-employee romances, single parent romances or books by authors Victoria James, Robert Tate Miller, Jennifer Shirk and Coleen Kwan.
Book Info:

Publication: March 11th, 2019 | Entangled Bliss | Quail Hollow #1
For most women, working for a sexy soccer star would be a dream come true. All except single mom Felicity Shaw. She has no interest in playing personal assistant for a stubborn, injured playboy—no matter how nice his abs are. But with bills piling up and mouths to feed, she can't say no to the job.
That's when it gets interesting.
The last thing Scott Gillie wants or needs is a persistent and entirely too distracting PA while he's recuperating in his small hometown. Unfortunately, it's not up to him. Then Felicity and her son end up temporarily moving in—all thanks to his meddlesome grandmother. Now temptation is right across the hall and it's driving Scott crazy.
His only option is to fight fire with fire.
He never expects Felicity to do the same.