In Murphy's Law (Law #2) by Lori Foster, Life may have kicked Ashley Miles around quite a bit but she's determined to stand on her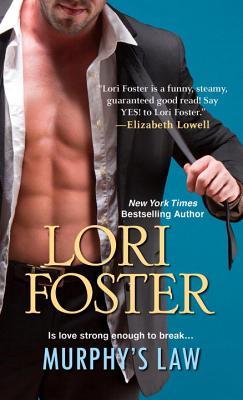 own two feet and create a successful future. So rich guys like the undeniably gorgeous Quinton Murphy makes her roll her eyes. He's from a family of money, he's a hotshot CEO, and for some reason he's intent on dating her. It's not that Ashley doubts herself or has low self esteem. It's that she and Quinton have nothing in common. Or so it seems, until she realizes how intense their chemistry is and how much she enjoys their time together. Maybe once she learns all his secrets, then things won't be so wonderful. But Ashley is worried she may be kidding herself and already be in too deep.
'She needed him. Somehow she'd become addicted to his touch, his scent, and she craved him all the time.
Crazy–but also exhilarating.'
Quinton was knocked over the very first time he saw Ashley. There's just something about her, from her uninhibited questions to her quirky sense of style that works for him. But getting her to agree to a date is a challenge unlike Quinton has ever faced. Ashley is clearly an independent woman who has limited time thanks to multiple jobs and college. Although he knows that he can prove his good intentions and show her how strong their attraction truly runs. But when Ashley starts receiving threats from an unknown source, Quinton and a few of her close friends will have to step in to keep her safe, only to find that they're also in the line of fire.
"We're not dating. It'd be a waste of time."
Did she deliberately insult him?
He scowled, but she shook her head and said, "I mean because we have nothing in common."
He touched her mouth with one fingertip. "Oh, I think we have a few things in common." He looked into her eyes and his lust ratcheted up to the max again. He wanted to devour her.
Murphy's Law was a reissue from 2006 that was as engrossing and lively as just about anything else I've read by Lori Foster. An offbeat cast with ties to Foster's SBC Fighter's series and an opposites attract romance, this had all the elements to make it a fast-paced read.
I really got a kick out of the pairing we had here of Ashley and Quinton. They were polar opposites in most ways–except where (I think) it matters most: they both had generous, giving hearts. Ashley was an outspoken woman who danced to the beat of a different drum and who was perpetually busy between her jobs and college. She lived humbly and unfortunately had a rough childhood but she had a great outlook on life, even though she came across as brash and feisty at times. Ashley could also be stubborn as all get-out, but she was loyal to the end, especially when it came to her BFF May.
Quinton turned out to be a caring, driven man, a CEO who might have come from money but he didn't flaunt it. He had a secret that I think will melt readers' hearts into a puddle of goo. That part of his life showed how genuinely nice he was and just how much he was willing to do to help others. I also felt like Quinton had Ashley's best interest at heart, protecting her and looking out for her safety right from the start.
I liked the overall flow of the book but I will say that the way it began kind of made me feel like we were dropped in the middle of things. It almost had me wondering if this was a continuation of book one or if I missed a novella in between somewhere. After finishing this, I do think readers would get a truer sense of May and Ashley's friendship as well as some issues that crept up here if they read Jude's Law first, but this can be read as a standalone as well.
With one doozy of an ending–don't worry, it's a HEA–and enough red hot passion to burn down a building, Murphy's Law was quite entertaining and will surely have readers feeling *all* the feels.

Book Info:

Publication: April 25th 2017 (first published January 1st 2006) | Zebra | Law #2
-Lori Foster is a funny, steamy, guaranteed good read! Say YES! to Lori Foster.- –Elizabeth Lowell
ANYTHING THAT CAN GO WRONG. . .
Nothing is going to go wrong. Ashley Miles has worked too hard for her independence to let some Bentley-driving hunk named Quinton Murphy interfere with her plans–or her freedom. Yes, the chemistry is phenomenal. Kind of scary, actually. But that's it. NO emotional commitments.
. . .WILL
But he's SO wonderful–a woman could fall in love . . . How did that happen? That wasn't part of the plan! But can she trust him? Really trust him? The man is just so mysterious. There's only one solution: put it all on the line and see what Quinton does when she tells him how she feels. And hope everything that can go wrong. . .won't. . .
-Smart, Sexy, engaging characters. The pages sizzle!- –Christine Feehan