Must Love Wieners (A Rescue Dog Romance #1) by Casey Griffin is a laugh out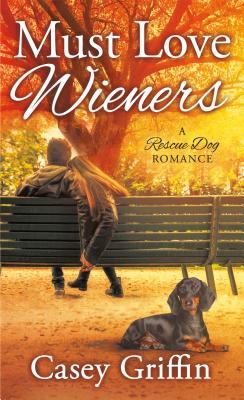 loud story with a bit of suspense and a lot of HEA. Who doesn't love a story with cute dogs, hot billionaires, quirky heroins, and a sweet HEA. This is the story of Piper and Aiden.
Piper Summers is putting herself through veterinary school. In order to that, she needs money. So she works as a pizza delivery girl, a taxi driver, a singing telegram girl and volunteers at the local dachshund rescue center, where she got her best furry 4 legged friend, Colin. While delivering pizza and driving the taxi, she has to go an deliver a telegram that will change her life. When she lands in the lap (literally) of billionaire CEO Aiden Caldwell, she does not realize what a ride she is in for.
Aiden Caldwell is shocked to receive a singing telegram in the middle of a meeting. Not able to stop thinking about Piper, he shows up and adopts little Sophie from the dachshund rescue center, and than convinces Piper to be his personal doggie walker. But is seems that whenever Piper is around, so is Aiden.
When threats, fires and destruction start happening, Piper will jump to a lot of conclusions. Can she unravel the truth behind the lies before her chance at happiness goes to the dogs.
What I loved about this story is that is told from only Piper's perspective allowing you to understand how she could misunderstand what is really happening around her. I loved Aiden. He keeps telling Piper that he does not mix business with pleasure, and that he wants to keep his relationship with her seperate from his business. He lets her know that by accepting his help, she is not weak. He has people that are always out for what he an give them, but with Piper, he only wants to make her life a little easier, and if he cannot spend his money on the one person he cares the most about, than what is the point.
I really enjoyed this amazing story, it has a bit of suspense as they try to figure out who is after Piper and why, and the HEA at the end will make you a little teary eyed. Amazing and I cannot wait for the next book is what is the start of a wonderful series to come.

Book Info:

Publication: August 2nd 2016 | St. Martin's Paperbacks | A Rescue Dog Romance #1
LOVE—UNLEASHED. . .
First in a wickedly funny new series brimming with mystery and romance!
Piper Summers works like a dog juggling three jobs to put herself through veterinary school—driving taxis, delivering pizzas, and singing telegrams. Thankfully, Piper has her devoted dachshund Colin to help her keep things in line. That is, until she gets fired…and someone throws her a bone that is too good to resist.
Aiden Caldwell is an Armani ad come to life—a billionaire CEO who's just adopted a dachshund from the rescue center where Piper volunteers. He's hot on Piper's tail to be his personal dog walker…but he may be after more than a walker for his wiener. The gorgeous, spirited Piper is everything he's ever wanted from a woman—and more. But can Piper ever love, and trust, a man who has never learned to open his heart—or has she bitten off more than she can chew?
Must Love Wieners is the first book in Casey Griffin's Rescue Dog Romance series!