My Every Breath: Brittney Sahin successfully blends breathless suspense, sizzling chemistry and heartwarming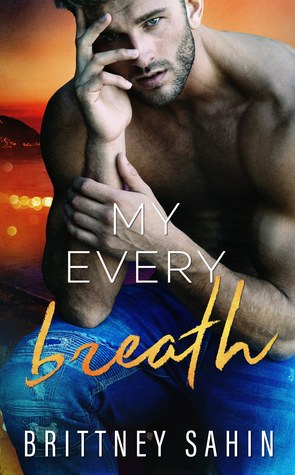 romance to deliver a thrilling and heartfelt love story.
Cade is a sexy, powerful businessman, who finds himself entranced by a mysterious woman, Gia. He's used to getting what he wants, and he wants her and is determined to have her. She's the daughter of one of the Irish Mob's hitmen, and although she feels intensely drawn to Cade, she tries to avoid him and put him off because getting close to her could mean death.
Cade is all swoony alpha, isn't afraid, and pulls out all of the stops to protect Gia and to get her out of a dangerous situation. The story has twists and turns that the reader will never expect as Gia and Cade begin to work together to find answers and solutions while also falling head over heels in love.
If you are looking for a fantastic romantic suspense with a tightly-woven plot and a dynamic couple, don't miss My Every Breath.
Book Info:

Publication: 5/7/18 | Self-Published – Brittney Sahin |
Businessman Cade King has fallen for the wrong woman. She's the daughter of a hitman, and he's the target.
After ten years of living in the shadow of the Irish mob, Gia Callaghan wants nothing more than to escape the darkness of her life. Her burning desire for answers about her past has her constantly plotting new ways to flee. When she comes face-to-face with the one man who might be able to help her, she'll have to decide exactly how much his life is worth.
Cade King's past is littered with questionable choices. He's made more mistakes than he can count, but he vows to be a better man.
When he meets Gia, his structured life turns upside down, and he must decide whether he's truly worthy of redemption. Can he protect a woman whose guard is even higher than his own, or will she end up saving him from himself?
As the tension and chemistry heat up between the two, they'll discover that life isn't always black and white.