In Peachy Flippin' Keen Southern Eclectic #1.5) by Molly Harper  , Frankie McCready has lived in Lake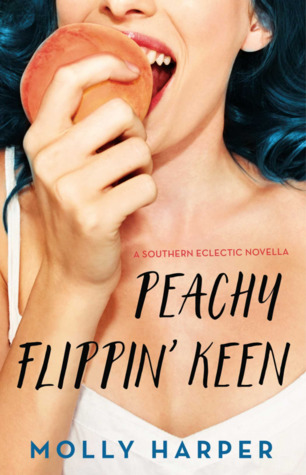 Sackett, Georgia, her entire life and has been training since she was little to work in the family funeral home. Being the county coroner now means she has to work closely at times with the local sheriff. And that's where the problems start, when Eric Linden, the new stoic but super handsome sheriff and Frankie butt heads right away. Let's just say that things start off poorly between them and with each meeting as they investigate a local boating accident, it gets worse.
"I'm gettin' dressed and then I'm calling a family meetin'!" she shouted as she ran. "Everybody's comin'!"
"Okay, but you have to actually *call* people to have a family meetin'," he yelled. "It's not like we have a redneck Bat-Signal or somethin'."
In the midst of Frankie's battle of wills with Eric, someone is also playing juvenile pranks on the McCreadys and their businesses. From crickets jumping amuck to a hot sauce incident, she has a good idea who the culprit might be. All it will take is a little help from her family and some old fashioned sleuthing to figure it out. Frankie's pretty sure the grumbly, by-the-book new sheriff will not be any help with the situation. Which just means that she'll have to take care of it on her own so her family won't lose any business with the summer season approaching.
'This was one of the things she loved about her family. Yes, they could be frustrating and drive the Pope to cuss, but when you really needed them, they rose to the occasion.'
Peachy Flippin' Keen was a quick but highly entertaining novella in Molly Harper's Southern Eclectic series where we got to know Frankie McCready, the local coroner, a whole lot better. With her funky fashion sense and abundance of sassy wit, she was one heroine I fell for right away.
"It's possible you're not used to someone not being charmed by your particular brand of smartass," he told her. "To a first-timer, you can be about as subtle as a bag of hammers."
"I'm. A. Livin'. Delight," Frankie reiterated.
Although this can be read as a standalone, Peachy Flippin' Keen is the continuing story of the McCreadys in Lake Sackett, Georgia. A quirky family who combined two unlikely businesses in one location: the McCready Family Funeral Home and Bait Shop, and who pretty much all live on one piece of land they call "the compound". Leave it to Molly Harper to create a group of likeable Southern rednecks who love each other as fiercely as they bicker and argue. And I loved every single amusing moment of our time with them.
Frankie McCready was just as spunky as I hoped she'd be. And she kind of surprised me with how much of a free spirit she truly was, with her little trips away from the family to indulge in some fun. I loved her nerdy side and how quick she was with a sarcastic comment. It was a bit reminiscent of Jane Jameson-Nightengale from Harper's Nice Girls/Half-Moon Hollow series. Without giving away too much here, Frankie and the new sheriff, Eric Linden, didn't start off on the right foot so it made for some animosity and fiery dialogue that had me laughing. It seems like this novella was more of an introduction to Frankie and her growing relationship with Eric–along with all the pranks happening to the McCreadys–but I have to say I was a little surprised with how abruptly this ended. It left things in sort of a cliffhanger, with neither of our main characters having made amends yet. But it did set up the next book, Ain't She a Peach, in grand style.
If you're looking for a short story to make you laugh and hold your attention until the very final page, look no further than Peachy Flippin' Keen. I think it will charm readers to no end.
Book Info:

Publication: Published April 9th 2018 | by Pocket Star | Southern Eclectic #1.5
A prank war erupts in Lake Sackett, Georgia and coroner Frankie McCready has to turn to the gorgeous but surly new sheriff for help in Molly Harper's newest Southern Eclectic novella, perfect for fans of Kristan Higgins and Amy E. Reichert.
The McCready Family Funeral Home and Bait Shop has crickets running rampant in the store and hot sauce in the Snack Shack's ketchup bottles. But as the county coroner, Frankie has enough on her plate without worrying about the increasingly mean pranks being played at her family's business. And the arrival of Sheriff Eric Linden, both devastatingly attractive and painfully taciturn, is enough to push her over the edge.
Linden, who didn't seem to get the memo about men in uniform and Southern charm, is condescending and cold, revealing absolutely nothing about his past as an Atlanta police officer, while also making Frankie's job as coroner as difficult as possible. And with the town's Fourth of July celebration coming up, it's essential for McCready's to be cricket-free and in good working order. Strangling the sheriff will make her job even harder. Can Frankie hold off the threats to preserve her own sanity?
With her trademark "clever humor, snark, silliness, and endearing protagonists" (Booklist), Molly Harper invites fans to return to the family they first met in Sweet Tea and Sympathy. Y'all sit down and stay a while, won't you?