My Royal Hook-Up by Riley Pine is the third story in the author duo's Arrogant Heirs series, a set of royal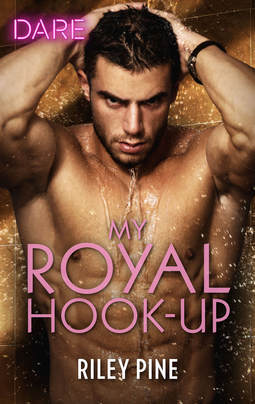 romances set in a fictional European country with scandal, drama and a bit of fantasy intertwined with steamy romance for a sometimes over the top but definitely exciting read.
Prince Damien is an outcast from his family in Edenvale after stealing away with the woman betrothed to his brother in an arranged marriage, and a subsequent accident that cost her life. Now he plays by no rules and has a reputation for his devil may care attitude. When he encounters Princess Juliet of Nightgardin, he knows that trifling with the princess of their neighboring and rival country could mean death, but her entreaty to help her experience sexual satisfaction before an arranged marriage to an older man is one he can't refuse.
Juliet knows that her days hidden away with Damien could be considered treason but she doesn't care, as the ecstasy she experiences with him is worth any price. When they are found by the Nightgardin Royal Guard, Damien is beaten and left for dead on his family's doorstep with a full on case of amnesia. Weeks later, when Juliet shows up in Edenvale pregnant, Damien doesn't know what to think. He'd vowed to never love another after the accident that killed his true love. Are this woman's claims true? And can they claim their happy ever after?
I've been enjoying this steamy romp in Edenvale with the romances of brothers Nikolai, Benedict and now Damien. There is a lot going on in this one as previous story worldbuilding has introduced a mysterious Order that is protecting secrets that could affect both countries. It can be read as a standalone and each story in the series has a complete couple romance but there is a definite story arc that goes through the whole series if you like to follow things from the beginning.
Damien has some secrets that make him the tortured hero type, and Juliet is the proverbial innocent so their romance is full of steamy sex and emotion. The amnesia trope makes for some added drama as Damien starts to regain his memory in flashes as the story progresses. The pregnancy is a bond between them and can also be the start of a new era for Edenvale and Nightgardin –if they can survive a wicked queen who will stop at nothing to retain her power. It's fantasy and fairytale and steamy romance all in one, complete with a happy ending for Damien and Juliet. While the brothers have found their partners, the mysterious X, royal bodyguard and a key member of The Order has yet to fall in love so I look forward to where the series is headed next!

Book Info:

Publication: Sep 01, 2018 | Harlequin Dare | Arrogant Heirs #3
A memory of one night
Enjoying absolute pleasure!
I am the banished prince—the scoundrel. So deflowering the enemy's princess should be right up my alley. And when sweet, naive Juliet asks for one night of passion, I can't resist making her beg. Her silky touch captures me, compels me beyond thought. But her cries of ecstasy might just be my undoing…