In When a Duke Loves a Woman (Sins for All Seasons #2) by Lorraine Heath, Most people would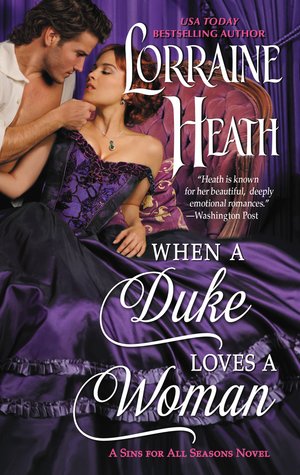 have a chip on their shoulder after starting out in life being left on a doorstep as an infant to a woman with little money and even fewer prospects. But Gillie Trewlove isn't most people. She grew up rough with her "brothers", three other by-blows left on Ettie Trewlove's step, and has an independent streak not seen in most women. But it gave her the tenacity to open her own business, a tavern in Whitechapel. One thing Gillie has promised herself is to never fall under the spell of a man who could take away her tavern or her freedom. Something she's done well to uphold–until she comes across a dashing man fighting for his life in her alleyway. A duke, who turns out to be the one man who could change Gillie's mind about love.
"I will not be your mistress and I cannot be your wife. Let me go, Thorne, let me go on my terms. Give me that."
He opened his eyes. "I would give you the world if I could."
"Give me tonight, every minute of every hour. And it will be enough."
Since becoming the Duke of Thornley, Thorne has spent his days filled with responsibilities, meetings, and more meetings. When it's time for him to make good on the promise he made to his father, to marry Lavinia Kent for the land in her dowry, Thorne shows up to the wedding chapel. But Lavinia is nowhere to be found. On the hunt for his runaway bride, his bad luck holds when he is mugged in an alley in Whitechapel. To his astonishment, he is rescued by the tavern owner, a woman with compassion and fire in equal measures. Before long, Thorne can no longer focus on finding the woman who threw away their future as he's too smitten with beautiful, hardworking Gillie. He's never before met a woman who captivates him so and who can make him laugh the way she can. Even though Thorne knows they would be scorned by Society, he can't help but wonder if he and Gillie could have a life together after all.
"I've actually had men, after sleeping off a stupor, come into the Mermaid and inform me they are deserving of a punch and offer their chin up in sacrifice."
"And you forgive them."
"Hell, no. I punch them."
His laughter rang out, filling the street.
A duke jilted at the altar and a female tavern owner–not a common pairing in a historical romance, but Lorraine Heath made it work exceedingly well in When a Duke Loves a Woman.
"People in my position do not marry for love. We marry for greater gains, out of obligation, for duty."
"I think your lot has the wrong of it. Love is the greatest gain of all."
It's been a while since I've sat down and enjoyed something new from Lorraine Heath. And When a Duke Loves a Woman was a great way to reintroduce myself to her writing. I think this would be a nice book to start with if you are new to her, as well. The scenes flowed one into another just like I remembered from her previous work, and of course Heath did a great job conveying our hero and heroine's emotions through their words and actions. It was the characters themselves who really stood out to me, though. Everyone from our main characters, Thorne and Gillie, to her brothers, the locals who frequented her tavern, and, yes, even Thorne's ice queen of a mother.
Gillie, I must admit, tickled me to no end with her sass, her fierce determination, and her generosity. She had this blend of being forthright and worldly about her life in Whitechapel, but yet she was naive about relationships between a man and a woman. However she could certainly read a person well. And I loved that she knew right away that Thorne would not hurt her–physically or in any other way. It was also nice to see Gillie portrayed as such a strong heroine who could run her business successfully and yet show such tenderness towards those in her neighborhood who needed a helping hand. I adored her interactions with the locals and when we saw Gillie with her brothers. They were such a hoot!
Thorne actually surprised me in a good way as we got to know him better and understood why he ended up with no bride at his wedding. I thought he was a shining example of how a duke should be, with his ability to understand those around him and his penchant for doing the right thing. Thorne and Gillie were on opposite sides of Society so it was disheartening to watch them struggle with their incredible love for one another, knowing it couldn't lead anywhere. I'm happy to say they did have their fairy tale ending, although of course I won't explain how they got there–but it was definitely worth it all in the end!
Achingly romantic and filled with a memorable cast who will make you chuckle and smile happily, When a Duke Loves a Woman was another wonderful historical by Lorraine Heath.
Book Info:

Publication: Published August 21st 2018 | Avon | Sins for All Seasons #2
Gillie Trewlove knows what a stranger's kindness can mean, having been abandoned on a doorstep as a baby and raised by the woman who found her there. So, when suddenly faced with a soul in need at her door—or the alleyway by her tavern—Gillie doesn't hesitate. But he's no infant. He's a grievously injured, distractingly handsome gentleman who doesn't belong in Whitechapel, much less recuperating in Gillie's bed.
Being left at the altar is humiliating; being rescued from thugs by a woman—albeit a brave and beautiful one—is the pièce de résistance to the Duke of Thornley's extraordinarily bad day. After nursing him back from the brink, Gillie agrees to help him comb London's darker corners for his wayward bride. But every moment together is edged with desire and has Thorne rethinking his choice of wife. Yet Gillie knows the aristocracy would never accept a duchess born in sin. Thorne, however, is determined to prove to her that no obstacle is insurmountable when a duke loves a woman.