Mystic Park (Finding Home #4) by Regina Hart is a story about growing up, coming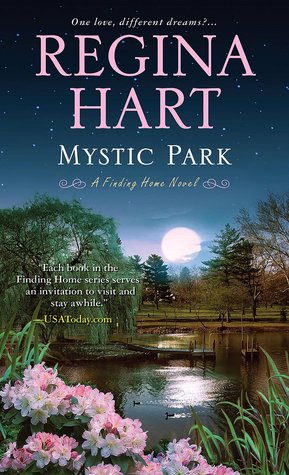 home, coming to the realization that everything is not all about you. It is about family, realizing what you lost and finding love and hope and dreams.
Benita returns to her home town to help get her Great Aunt settled in an assisted living home, worried for her safety, Benita makes decisions and choices that are hard, but she makes them and does not think about the consequences of her actions. When the boy from her past asks for her help, she rushes in head first as always.
Vaughn has loved Benita since they were kids, he always thought that they would be together, but Benita is not a small town girl. When Benita takes things a little too far in her efforts to help Vaughn, he starts to think that maybe his dreams were just childhood fancy. Benita is going to have to work fast before she ruins the chance that she has been given to have a life with Vaughn.
Even though this is a book in the middle of a series, I did not feel like I was lost. Benita is a very domineering characters that does not always think her actions through before she pushes them through. There are a lot of hurt feelings along the way, but in the end, the growth of this character was simply amazing.

Book Info:

Publication: Published August 25th 2015 | Dafina | Finding Home #4
Los Angeles talent manager Benita Hawkins has returned to tiny Trinity Falls, Ohio, to visit her elderly great aunt Helen—and hopefully convince her to move to assisted living. But that's not the only move Benita hopes to inspire. After years of hometown hookups with her childhood sweetheart, university band director Vaughn Brooks, Benita wants more: for Vaughn to move to L.A. and settle down with her. She even gets involved in his work, planning to lure him to the City of Angels…
Vaughn has loved Benita since high school, but he also loves Trinity Falls. Hoping to seduce her to stay, he asks Benita to help out with the local production of his original musical. But when Benita takes her role too far, she may have blown both their dreams—unless she can prove to Vaughn that they want the same things out of life after all…