In Named of the Dragon by Susanna Kearsley, When literary agent Lyn Ravenshaw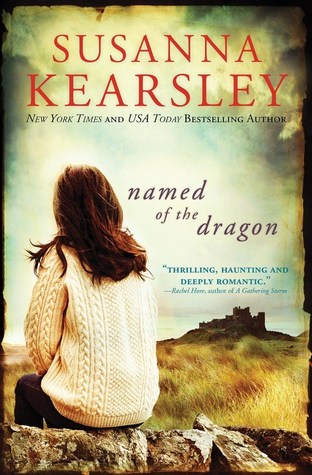 agreed to go to Wales with her client and friend, author Bridget Cooper for Christmas, she didn't know she would become tangled up in all of the personal drama playing out on the Castle Farm estate. Lyn has had her own past tragedy she is trying to put behind her, still suffering from nightmares after the unexpected loss of her baby about five years ago.
"We don't let any of them die, in Wales–Merlin and Arthur and Owain–we keep them close by and asleep in the hills, to be wakened if ever we need them."
I felt the magic of his words, and something more–a sense of solid permanence and peace, deep peace, that flowed between the land and Gareth, drew me in its circle.
But between Bridget's machinations to spend time alone with local playwright Gareth, and their next door neighbor Elen's insistence that her son Stevie is going to be taken from her by a dragon, Lyn somehow is the voice of reason in the chaos. She soon begins to question her own self, though, when her dreams take on a life of their own, relating back to her own past and carrying into them the craziness of her current situation. Is there really someone trying to take Stevie from Elen? Or is someone preying on the young mother's vivid imagination?
Named of the Dragon was an interesting novel that pulled in elements of romance, mystery, and even Welsh legends to create a moody Christmastime story that was truly unique.
'Not that I'd ever promised her I'd be her son's protector, but part of me was beginning to think he might actually need one. Because dragons, I knew, came in all shapes and sizes.'
It's honestly a little difficult to explain Named of the Dragon. It was a modern day story, but legends, history, and dreams/nightmares became wrapped up in our lead character's life to the point that she had a hard time determining what was real. Having read some of author Susanna Kearsley's previous work, I think this type of story is where she excels. I liked getting tangled up in her books where the lines are blurred between reality and the dreamworld. For me, it keeps things exciting and holds my attention completely.
Kearsley has some of the most beautifully written, enchantingly descriptive background scenes I've read. And with the bonus of Welsh folklore about Arthur, Excalibur, and Merlin (among others) there was so much wonderful imagery added to the story. I'm a fan of such old legends anyway, but it was intriguing to see it so blended in with a contemporary plot. I thought it worked well, being that Lyn was a literary agent and the authors and playwrights that surrounded her used it in their work. It felt right for the situation.
The characters themselves were all very well developed, including the secondary characters who sometimes stole the scenes they were in. Figuring out who was telling the truth and who was bothering Elen was really where the mystery came in to play. I never really was sure until the end how everyone factored in and how Lyn would use her strengths to keep Elen and Stevie safe. I had no doubt in her abilities for some reason, which was nice. Even though Lyn was struggling, she was still a strong character I easily identified with.
Fantasy and real life become linked together in Susanna Kearsley's latest offering. If you're looking for a holiday story that offers a little bit of extra excitement, give Named of the Dragon a try.
Book Info:

Publication: Published October 6th 2015 | Sourcebooks Landmark |
A haunting tale of intrigue from New York Times bestselling author Susanna Kearsley.
Although it goes against her workaholic nature, literary agent Lyn Ravenshaw lets herself be whisked off to Wales for the Christmas holidays by her star client, flamboyant children's author Bridget Cooper. She suspects Bridget has ulterior motives, but the lure of South Wales with its castles and myths is irresistible. Perhaps a change of scene will bring relief from the nightmares that have plagued her since the death of her child.
Lyn immerses herself in the peace and quiet of the charming Welsh village, but she soon meets an eccentric young widow who's concerned her baby son is in danger—and inexplicably thinks Lyn is the child's protector.
Lyn's dreams become more and more disturbing as she forms a surprisingly warm friendship with a reclusive, brooding playwright, and is pulled into an ancient world of Arthurian legend and dangerous prophecies. Before she can escape her nightmares, she must uncover the secret of her dreams, which is somehow inextricably located in a time long ago and far away…