Nanny Makes Three by Cat Schield: Does happily ever after happen only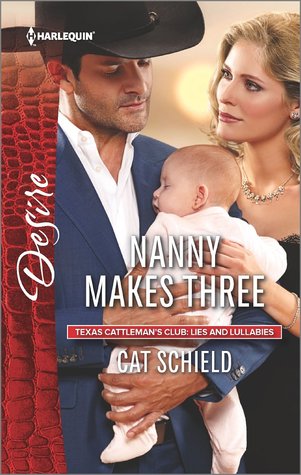 when you aren't looking?
Hadley Statton certainly wasn't looking for happily ever after. She had been burnt once and wasn't about to be burnt again. She was too close to finishing school and starting her life again. However she did love her job as a nanny and her ability to make the best out of trying situations certainly came in handy. Like her life before though she would walk away after this semester and begin again.
Liam Wade knew that anyone visiting his house before the crack of dawn could not have good news. What he wasn't aware of was how earth shattering that news would be. Liam was a take-charge kind of a man though and he was going to get through this and he knew it would be alright but what did a single man know about taking care of a baby? What he did know was he needed a nanny fast.
When Hadley showed up on Liam's door neither of them realized that the past and the present were about to present the future to them. A future that was bound to be rocky but in the end would be the best possible for all three lives.
Ms. Schield has taken her readers back to Royal and to more Cattleman. This is both a second chance and a Cinderella story that will have readers clamoring for more. While I won't deny the heat, the plot is about more and about the romance and love that these two show each other and the new presence in their lives. The bond that Ms. Schield is able to build between these two is not often seen in a novel this short.
Overall Nanny Makes Three by Cat Schield is an amazing book with great characters building upon a storyline that continues to grow and amaze.

Book Info:

Publication: January 5th 2016 | Harlequin Desire | Texas Cattleman's Club: Lies and Lullabies #3
This rich Texas rancher has his hands full with an abandoned baby…and her irresistible nanny!
Mistaken for the father of his twin brother's child, Liam Wade takes in his fussy infant niece and needs a nanny fast. Hadley Stratton knows all about Liam's reputation with the ladies, and really doesn't believe that the baby isn't his! But as she settles into her role, she begins to see the man beneath the Stetson. And when they're stranded together during a storm, she really gets to know him. Is she just the latest woman to fall for Liam's charms, or are this rich rancher's single days numbered?