In Need You Now (Man of the Month #3) by J. Kenner, Daydreams of gorgeous Mina Silver are nothing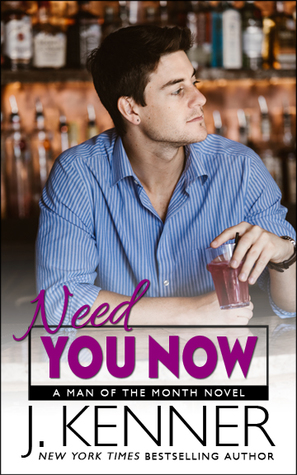 new to Cameron Reed, seeing as he's had a crush on her since they were teenagers. She's off-limits, though, where she's his best friend Darryl's twin sister. And it's becoming a problem. Because with Mina pitching in to help save the Fix on Sixth, the bar where he works in Austin, it means a lot more time in her company. And ever since his little stunt on the stage during the February Man of the Month Calendar contest, Cam has seen something new in Mina's eyes. Desire. Or so he hopes. Because if he pursues something with her there's the chance that the feisty woman might cause him bodily harm. Or she could end up pleasing his body to no end. He's willing to find out which it will be, even if it's just something secret between the two of them. To begin with, at least.
'He wanted to be a couple. For now and, God willing, forever.
He just hoped that when he told her as much he'd get his wish–and not one hell of a kick in the balls.'
Mina's been doing her damnedest to stay on track and make it to Hollywood in the next couple of years. And helping with film work at the Fix–plus another upcoming local job–will be a huge boost to her resume. Nowhere in those plans has she penciled in time for a relationship. Definitely not one with someone she's known all her life and who's best friends with her brother. But Mina can't stop seeing Cam strutting down the stage, abs bared, with a sexy grin on his face. She never really thought of him that way before. Although now she finds herself fantasizing how it would be between them in the bedroom. Finding out that Cam is just as into her as she is him is flattering and exciting. But realizing that her feelings also match how strong Cam's are has Mina wondering if their sensual fling might be becoming something much, much more serious.
'Who would have thought that the Cam who'd tormented her as a kid would be such a tender lover?
No, she corrected. Not tender. He was, yes. But there was a roughness, too. An edginess. He'd *claimed* her, no other way to describe it. And dear God, she'd surrendered completely. Willingly.'
Friends-to-lovers plus a best friend's sibling trope was a winning combination in Need You Now, book three in J. Kenner's Man of the Month series. And ladies, if you love beta heroes with a touch of a naughty side then Cameron, aka Mr. March, is the guy for you.
'For a second their eyes met, and her hand stilled over his heart. Her lips parted, and there was something familiar in her eyes–something hot and needy that called to him, reflecting his own violent craving.'
So I've been having a blast with this newest super sexy series J. Kenner has created. And I don't know how, but with every new book I connect with the couple and fall into their story immediately. I love that everything I look for in Kenner's books has still been prevalent so far: complex characters with equally difficult backgrounds, an interesting plot, a hint of the erotic, and well-deserved HEAs. (Or at least HFNs.) It's been fun so far watching how she has created an ongoing storyline that carries from book to book but she has included just enough info in each story so they can also be read as standalones. Although they've been so good that I'd recommend reading them all!
Cam and Mina. *sigh* What a sweet, passionate couple they were. Cam had a crush on Mina starting in their teens years but she had only just recently realized her attraction to him. Being that her twin brother Darryl was Cam's best friend certainly complicated things. As did Mina's career goals to move to Hollywood. I liked that even though there was some drama, it wasn't angsty or overly dramatic. Things worked out relatively easily for Cam and Mina after a bit of back and forth about their future goals and whether they were ready for a long-term relationship, but it felt genuine how it happened.
I have to say that Cam had that whole geek-chic thing going on: super nice guy, studious and loyal, but in the bedroom his alpha side came out–just enough to make him a bit edgy and make a reader girl swoon. And Mina? Boy she was a spitfire who was out to prove herself to her family, who had always looked at her as the "fragile twin". She was one smart, ambitious young woman who was honestly knocked flat by her strong feelings for Cam. I loved seeing them together as a doting couple, though, and where they'd been friends for so long it just felt…right. They fit perfectly and were simply adorable together.
J. Kenner is seriously on a roll with her Man of the Month series. All kinds of steamy goodness, strong heroes and heroines, and storylines you can't help but get drawn into. You can't ask for much more than that in a romance, right?

Book Info:

Publication: Published February 13th 2018 | Martini & Olive Books | Man of the Month #3
Charming smile. Wicked skills.
Meet Mr. March.
With his tousled hair, cocky grin, and surprising abs hidden under a conservative button-down, bartender Cameron Reed is no stranger to the attention of women.
He dates, but never gets serious, claiming that he's too focused on his studies. But it's not really school that preoccupies him; it's sensual fantasies of his best friend's sister.
Mina Silver might be absolutely off-limits because of her overprotective brother and father, but that doesn't stop Cam from imagining the feel of her in his arms, the brush of his lips over her soft skin, or the sparks that would fly between them if he ever got her into bed.
But for Cam, the bonds of family and friendship are sacrosanct, and there is no way that he'd ever violate his friend's trust. Or would he?
Because with love on the line, maybe it's time for Cam to break a few rules.
Taking a risk never felt so right.
**Need You Now is part of a binge read series by New York Times, USA Today, Wall Street Journal, Publishers Weekly, and #1 International bestselling author of the million copy Stark series, J. Kenner.
Each novel in the series is a STANDALONE romance with a guaranteed HEA!
But even so, you won't want to miss any in the series. Because then you can answer the question…
Who's Your Man of the Month?
When a group of fiercely determined friends realize their beloved hang-out is in danger of closing, they take matters into their own hands to bring back customers lost to a competing bar. Fighting fire with a heat of their own, they double down with the broad shoulders, six-pack abs, and bare chests of dozens of hot, local guys who they cajole, prod, and coerce into auditioning for a Man of the Month calendar.
But it's not just the fate of the bar that's at stake. Because as things heat up, each of the men meets his match in this sexy, flirty, and compelling binge-read romance series of twelve novels releasing every other week from New York Times bestselling author J. Kenner.
"With each novel featuring a favorite romance trope—beauty and the beast, billionaire bad boys, friends to lovers, second chance romance, secret baby, and more—this series hits the heart and soul of romance." — New York Times bestselling author Carly Phillips