In Needing Her: A Novella by Molly McAdams, Detective Connor Green needs to pick up the pieces of his life after losing the only woman he's ever let himself connect with several months ago. At least confessing his darkest secrets to her has helped him feel like he may finally be able to trust someone again. Connor runs into his next door neighbor, and his best friends' little sister, Maci Price, and what starts as harmless teasing turns out to be a war of who can out-prank the other. He hasn't felt this alive in a long time and he has Maci to thank for it.
"I'm being honest. Nothing has happened, and nothing will. She's my best friends' sister, I can't touch her."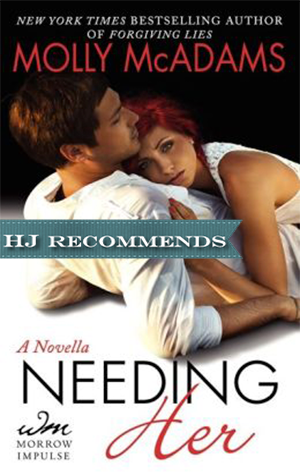 Connor's attention is soon drawn to how beautiful a woman Maci has become. He can't believe he hasn't noticed before. While his intentions are simply to get out of his current funk, Connor develops intense feelings for the sexy redhead. He's not afraid of her brothers, two of whom he calls his best friends, but he doesn't want to create problems for Maci or lose their friendship. How can Connor and Maci possibly become a couple with everyone in their way? And how can he live without the girl he never dreamed he could want this desperately?
"At least this morning you showed a part of the Connor I knew growing up…and at least you're showing some kind of emotion right now. Even if you are being an asshole! Whoever you've been the last however many months is not you."
Maci Price wants to end her friends-with-benefits relationship with Bryce. There's no passion between them and at this point she's not willing to settle for less than a romance like in the novels she reads. Maci has had her eye on her brothers' best friend Connor for many years but he's never even hinted at being attracted to her. Not that her brothers would ever let her date anyone for that matter. When funny jokes she and Connor play on each other turn into flirting and then more, she's stunned. Is there a way for them to keep their fledgling romance under wraps so her family won't find out?
'We'd gone from a six-month hiatus of even speaking to each other, to pranking each other and pissing each other off, to a night of the most mind-blowing sex I've ever had.'
Needing Her is a New Adult novella by the talented Molly McAdams. I must say, I love Molly's writing style. Her novels (and novellas) are fraught with so much tangible emotion that I can connect with the characters right away.
This is a continuation of Connor's story which began in the full length novel From Ashes. I did not get a chance to read it before I read Needing Her, however, that didn't make it any more difficult to understand the events at all. There is just enough of the backstory included to be able to follow along easily.
I loved how Connor and Maci have a history together as friends first, albeit he was more like an older brother to her in many ways. I always enjoy a good friends-to-lovers trope! This was a relationship that flared quickly and stayed extremely passionate even through the conflicts they endured. Their love scenes were very hot and mixed with a lot of flirty fun, which fit their characters well. I laughed over the prank wars they waged at each other. It was so funny…mean, but really, really funny and I could just see the fun they would have coming up with new ways to get back at each other!
Needing Her is a solid romance I think fans of the New Adult genre will enjoy. It is charged with emotions and has a HEA that is swoon-worthy!
Book Info:

Published December 23rd 2013 by William Morrow Impulse
She's the Girl Next Door
Maci Price isn't really into relationships. Having four very protective older brothers has always made having a boyfriend very difficult, anyway. But her friend is set on finding her the perfect guy – and thinks the mysterious Connor Green is the perfect pick.
He's Her Brother's Best Friend
Connor Green is trying to find himself again. He loved then lost and it's time for him to pick up the pieces. His brooding is making his friends crazy, but, Maci Price, who has grown up into a gorgeous and incredibly sexy woman, is about to break the spell.
They're Made for Each Other
When Maci starts up old pranks to get Connor out of his slump, an all out war leads to a night that will break all their rules, and a relationship they must keep hidden. Together they're electric. Apart they're safe. And soon they'll find they're exactly what the other needs.
A fabulous, fun, and sexy, New Adult novella from New York Times bestselling author Molly McAdams. If you loved Connor in From Ashes, this is the story for you.