Unforgettable by Samantha Hunter is an amazing book. The story is both emotional and moving, as the romance between the two main characters is given a second chance for success. Erin Riley is a strong, heroic woman and her ability to put her life back together after suffering through a horrific accident is a testament to the power to survive. Bo Myers is her rock, a man who truly loves with his heart and will do whatever it takes to ensure that Erin heals to the best of her ability.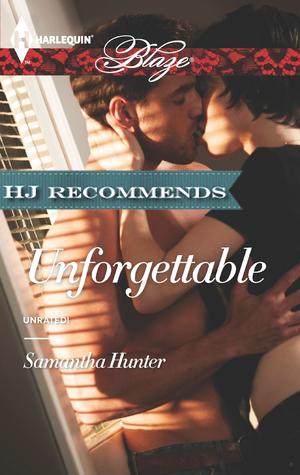 Erin used to be a firefighter, a difficult occupation for a woman in a male dominated field. She was good at her job and the crew that she worked with became her second family. When she almost lost her life fighting a fire, her sister as well as the crew, stuck to her like glue throughout the recuperating ordeal. In addition to bruises, Erin survived several brain surgeries and an induced coma. Now she is almost back to her former self, with the exception of partial amnesia. Her adult memories are practically non-existent, which includes the happenings at the fire, yet from time to time she gets a flash of something. Since she is still healing, she spends her free time helping out at her sister's flower shop and trying to remember her life post childhood.
Bo is the head Fire Marshall investigating the devastating fire that caused Erin's amnesia and the death of a fellow firefighter. He and his colleagues know the cause to be arson, but due to the lack of evidence and witnesses, it is difficult to substantiate. Bo and Erin were secretly seeing each other up until about a month ago, when she broke up with him out of the blue. Bo thought Erin was his future, but for reasons unknown, she called it off.
Interestingly enough, Erin feels an undeniable pull towards Bo, even though she does not remember them being a couple. She believes that spending time with Bo is the key to getting her memory back, which will ultimately assist with the arson investigation. Thus, Bo agrees to do whatever is necessary to help her out, which includes a sexual relationship.
Erin and Bo ignite the sky when they are together. They are falling for each other all over again, even though they never fell out of love. Erin's need for secretiveness and privacy has severely lessened. This is a temporary arrangement because Bo has accepted a position with the FBI and is relocating in a few weeks. They are both hopeful that spending time together, visiting the perished building site and Erin agreeing to be hypnotized, will jog her memory and bring Bo closer to solving the investigation.
I truly enjoyed this book and look forward to reading more by Samantha Hunter. I love reading about firefighters and this story showcases the family that forms from being a part of this close-knit, heroic group of people. Ms. Hunter's writing voice flows effortlessly from beginning to end, along with a loving enthusiasm woven throughout the book. The developing relationship between Erin's sister Kit and firefighter Hank Aaron (yes, that is his real name), is hopefully in the works, because I believe it will be another winner. If you are in the mood for an emotionally exciting romance, try Unforgettable.
Book Info:

Published January 1, 2014 | Harlequin Blaze (Book 779)| Unrated!
His touch was stronger than memory…
She should have died.
Instead, firefighter Erin Riley fought her way back, losing nearly a decade of memories—her much-loved career, her friends and her lost love. Now she's starting over. But the dark, intense gaze of Fire Marshal Bo Myers haunts her days…and her erotically charged nights.
With one kiss, Bo knows he's already in way too deep with his ex. The sheer force of their chemistry is stunning. But it's that connection that triggers Erin's lost memories. Each touch threatens to undo their past. It's only when Bo learns there's a serial arsonist targeting firefighters that he realizes what's really at stake. And the only way to save lives is by risking both of their hearts.