Reading Never Desire A Duke by Lily Dalton was a pleasure. It is the story of Vane Barwick, the Duke of Claxton, and his wife, Sophia.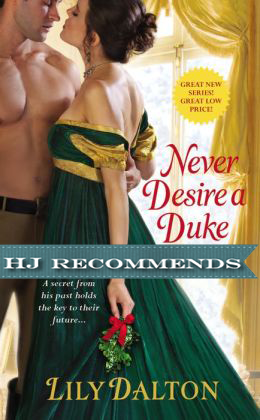 The premise of the story is Vane and Sophia lost a baby and have grown far apart, living in separate countries. It is now Christmas of the same year and the couple are thrown together in celebration of Sophia's elderly grandfather's birthday. Vane has decided to get Sophia back, Sophia has decided she wants a separation….and so the battle begins.
For most of the book, I wanted to slap Sophia. I didn't like her at all, found her to be a silly and immature. Vane, I liked immensely, if not for Lily Dalton's characterization of this Duke, I could not have gotten through the book.
After a while, Sophia started to grow on me by showing compassion and charity towards others. By the end of chapter seventeen, I was misty eyed. I like both the ending and the epilogue.
The secondary characters consist mainly of Vane and Sophia's family, and Vane's old paramours. I believe Lily Dalton intends to make a series of Sophia's sisters. I did not care for the sisters' characters anymore at the end of Never Desire A Duke than I did throughout the book, although I had come to like Sophia by the book's conclusion. I was confused to as how one of her sisters had a husband, I hope that will be later explained in Series.
Overall, I pleasantly enjoyed Never Desire A Duke by Lily Dalton. I recommend it tremendously!
Book Info:

HJ Recommends
September 24, 2013 by Forever | Series: One Scandalous Season Series
Lady Sophia has long been estranged from her husband, Lord Vane Barwick, the Marquess of Claxton, whose rumored list of amorous conquests includes almost every beautiful woman of the ton. Yet a shocking encounter with him in a crowded ballroom—and a single touch—are all it takes to reawaken her furious passion for him. But how can she trust the man who crushed her dreams and took away the one thing she wanted most?