Never Say No to a Caffarelli by Melanie Milburne: Rafe Caffarelli has purchased a gorgeous estate in a little village, and he's going to turn it into a luxury hotel. It's what he does. There's just one little snag… he doesn't own the entire property yet. There's a little Dower house that belongs to some weird woman that won't sell it to him, but everyone has a price.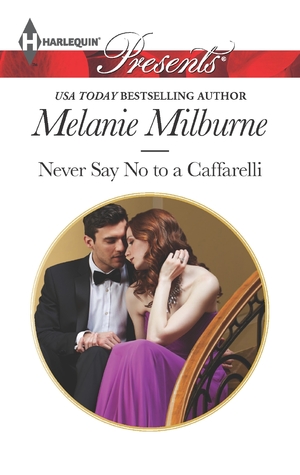 Poppy isn't turning down the offers on her home for fun, she's keeping it. It's the only link she has to her Grandmother and the lovely man who owned the main house and employed her. Besides, she's pretty sure whoever bought the place is just going to make it into some monstrosity, and if keeping her house keeps him from it, all the better.
Rafe decides he needs to see this woman in person. Maybe get some insight on what makes her tick. She owns a teahouse for God's sake – how much of a bother could she really be? When he sees Poppy in person however, he realizes how wrong he may have been. Serving tea & cakes while dressed as a scullery maid isn't his idea of a girl who wants to play hardball. He's used to getting what he wants, when he wants it – and she's not going to stand in his way. Goal. Focus. Win.
Each of them has their own set of rules and they're sticking to them… right?
This book was ADORABLE. The descriptions of the teahouse, the characters, the dower house, even Poppy's dogs – were just sweet. The romance was very believable, and I actually liked both the hero & the heroine. Even when they did something frustrating, I still liked them. It wasn't perfect. I would've liked there to be more in the 'love scene' department, but I can deal with what I got.
Good read, and I'm looking forward to reading about the other two Caffarelli brothers. (ahem, wouldn't mind reading about Poppy's friend either).
Book Info:

Published August 20th 2013 by Harlequin
"I play by the rules, but they're my rules."
Poppy Silverton is as untouched as the leafy English village where she runs a tearoom. But her home, her livelihood and her innocence are under threat…
Rafe Caffarelli is a mouthwatering specimen of Mediterranean manhood. He's a playboy billionaire and determined to buy Poppy's historic dower house.
Poppy will not give up the only thing that remains of her childhood and family. She'll fight Rafe–and her attraction to him–all the way. And be the first woman to say "no" to a Caffarelli!