In Wicked Heat by Nicola Marsh, Allegra Wilks is heading for her boarding gate at LAX when she meets Jett Alcott, an Aussie with a sexy accent and even sexier body. Sparks fly immediately between them. Too bad, as it seems he's headed home and she's traveling to Palm Bay to give the most important marketing pitch of her career. Thanks to her personal and then professional life imploding, getting the Kaluna Resorts account will make or break her. What Allegra could really use is a distraction in the form of a hot Aussie, but she doesn't really do casual flings. Although Jett seems more than willing to spend some quality time with her before their respective flights, time doesn't work in their favor.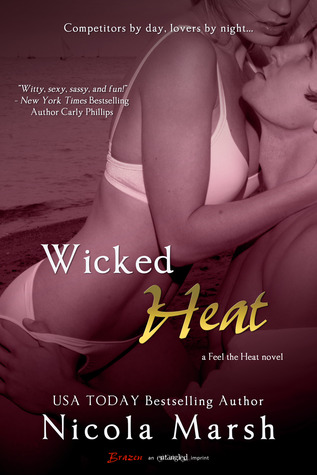 So imagine Allegra's surprise when she finds out Jett is also going to Palm Bay and they have eight hours to get to know each other better. She doesn't want any complications and knows she should focus on putting together her plans for her presentation. But Jett is very convincing. Allegra is afraid it will make things awkward once they get to the island. She's still not sure exactly what he's traveling there for until he mentions a big account he's hoping to win. So much for not getting complicated. Because if she gives in to what her body wants, she could end up easily falling for the competition.
"What I'd really like…" She slid her hand around the back of his neck and lowered his head so her lips grazed his ear. "You and me. Naked. Having hot and sweaty, unforgettable, wild, climb-the-walls sex."
Jett Alcott is getting ready to fight to win back his professional reputation and put his name back on top in the marketing world. He's finally coming to terms with a business betrayal that turned his world upside down. Now if he can land the Kaluna Resorts account, he'll be set for a while. Traveling is usually a necessary bore, but not this time as it turns out. Following a trail of expensive lingerie in LAX brings him face-to-face with the beautiful, classy Allegra Wilks. Jett lays on the charm and before long finds himself having a drink with the blonde. What he wouldn't give for more time to explore their explosive chemistry. Then he finds out Allegra is on the same flight he's waiting for. Finally something goes right for a change. Jett decides to give it his best go, to seduce Allegra on the plane and hopefully have a fun fling on the island as well. But the king of casual relationships may have met his match. Not only is she smart and charming, but she may also be the one who can mend, and break, his heart.
'He'd never met anyone like her. Fire and ice. Passion and aloofness. Hot and cold. He planned on unleashing that heat. Soon.'
Nicola Marsh does a terrific job with Wicked Heat in combining very spicy, sexy dialogue and playful love scenes with a plot full of intense emotions and conflict. She takes a chance encounter for two people and turns it into a passionate affair with both of their careers hanging in the balance, giving us just the right amount of drama without being too over the top. I've read and enjoyed a few of her previous books and was happy that this still has the same easy flow to it, making it a very quick and enjoyable read.
Allegra and Jett were very interesting together as they had a bunch of similarities but had very different personalities. They both had absentee parents growing up so they had to be self-sufficient and had a lot to prove to themselves (and their parents). Allegra became an over-achiever who wants to fix everything and make things easier for people, but she comes across as aloof and cool. Whereas Jett is of course a hard worker, but he also knows how to have fun, giving him a calm, laid back demeanor. They end up being a good balance for each other.
If you like your contemporary romance fun and definitely hot, I recommend Wicked Heat!
Book Info:

Published September 2nd 2013 by Entangled: Brazen
Competitors by day, lovers by night…
Allegra Wilks has had the worst month of her personal and professional life. To save her company, she must go on her would-be honeymoon and land the luxury eco-island resort's lucrative advertising account. But when a lingerie mishap leads her into the arms of a wickedly distracting Australian, Allegra's tempted to skip the trip and explore the most sensual kiss she's ever experienced. Too bad their chance encounter at the airport is just that.
Having recently lost his company to his former best friend's shady business tactics, Jett Alcott is headed to a South Pacific resort to secure an advertising account that will resurrect his reputation and career. Realizing the tantalizing Allegra Wilks is on his flight, Jett envisions a week filled with business and pleasure. But Jett doesn't know Allegra's fighting for the same account, or that there's more at stake than his heart.