New Year's Wedding is a definite story of "opposites attract", in this case Cassidy, who is an international supermodel, and Grady, a police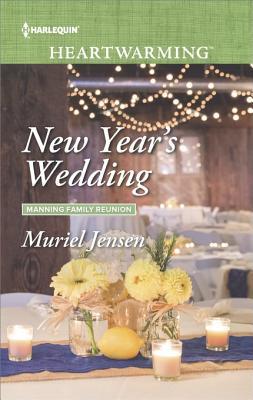 officer turned private detective in a small Oregon town- who prefers a simple laidback life. They meet in interesting circumstances- Cassidy has just been reunited with siblings she hasn"t seen since she was a young child. The press have found where her family reunion is taking place and are hounding her. She begs Grady to help her escape the press who want to hound her over a scene she made in Ireland that was caused by a panic attack.
As Grady graciously yet reluctantly opens his home to Cassidy temporarily, he starts to see the wonderful person she is under the glamour that he has trouble accepting. Cassidy, who is so excited to be reunited with her siblings, is trying to plan a dream wedding for her sister and sister's fiance, Ben, who happens to be Grady's best friend and partner detective. And, to make matters more tricky, Cassidy's long lost brother Jack is an adopted brother of Ben's.
As everyone comes together to plan a magical, intimate celebration for Corie and Ben, Grady sees so many beautiful and kind traits in Cassidy that he would not have anticipated in a supermodel of her fame. The question is whether he can see a future for them. Meanwhile, Cassidy gradually becomes more and more convinced that she has found a true home and future with her beloved siblings. And hopefully a life with Grady by her side To find out if they do indeed come together, and to enjoy reading about Corie and Ben's wedding twists and turns, I highly recommend reading "New Year's Wedding."
Book Info:

Publication: August 1, 2017 | Harlequin Heartwarming | Manning Family Reunion
She seemed to have it all: a fabulous career as a supermodel, a dad who dotes on her and a home in Paris. And now Cassie's rediscovered the Manning half brother and sister she barely remembered since she was split up from them as a toddler. But none of that excuses her bad behavior on a photo shoot that hit all the tabloids and sent her running from the media. With the help of family friend Grady Nelson, she's able to lie low in his secluded cabin so she can be part of the New Year's wedding of her long-lost sister. Cassie's just beginning to believe she might really have it all–including the heart of this independent bachelor–when she accidentally sets fire to Grady's house… Then all bets are off.