Night Dreams by Sandra Chastain is a sweet, fun and entertaining read.
Shannon Summers grew up with the imaginary Kaseybelle, the only person who showed her love and helped her when she was a child. Now an artist, she sold Kaseybelle to a chocolate company and she makes stories, which are then turned into cartoons of Kaseybelle the fairy.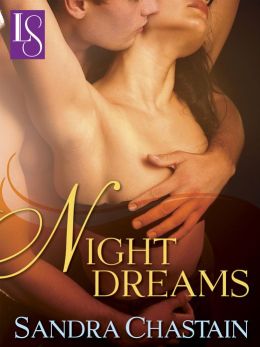 When Shannon is summoned to Dream Castle as an artist, she does not want to go, but her friendship with her boss and her gratefulness for his help will not allow her to deny him this favor. She plans to be there one day only, but Jonathan Dream has other ideas.
Jonathan has been hiding from the world since the accident that took one of his eyes, scarred him and also left his young daughter without the ability to walk. But he must invite a stranger to his castle now, for no one other than Kaseybelle or in this case Shannon will encourage his daughter to walk again.
With blackmail and threats Jonathan believes that he will convince Shannon to help his daughter. To his surprise she only accepts after he almost kisses her. The attraction is mutual, but he believes that he is not worthy of love. He destroyed his wife and he is afraid of hurting Shannon.
Things will not go easy for them, the closeness and living as a family in a remote place is like living a fantasy, but when real life intrudes in their fantasy it may just destroy everything. Shannon and Jonathan will have to learn to face the past and stop being afraid of it unless they want to lose the chance at being a family and having true happiness and love.
If you like a sweet and fun read with a couple of damaged character and a child that will steal your heart then you will like Night Dreams by Sandra Chastain.
Book Info
Publisher: Loveswept (April 8, 2013)
Shannon Summers has no idea why she's been summoned to the grand mountaintop estate of a very rich and very reclusive man. She only knows it has something to do with the character she created as an advertising agency artist, a character who is now the cartoon star of one of the hottest children's programs on television. She has no interest in being swept up in the magnetic draw of the former international playboy Jonathan Dream—but fate has other plans.
Twice before in his life, Jonathan had allowed himself to care about someone, and each time tragedy had occurred. Now his scarred face is his punishment, the North Carolina mountains his sanctuary. Jonathan only invites the artist into his secret space to help cheer his young daughter. But the frisson of desire that rolls through him when he lays eyes on Shannon shakes him to his core. Could a woman who wants nothing to do with Jonathan's fame and fortune find her way into his heart—and bring him back into the world?