Platinum Promises by Zuri Day starts hot and continues to be a hot read till the very end.
Faye Buckner is in Temecula for just a few days of relaxation before she starts working on the new free clinic she is opening in San Diego. She is staying at the Drake resort and spa thanks to her friend, mentor and father-like figure that is also sponsoring her clinic in San Diego. He believes that she needed some rest before she started working non-stop again.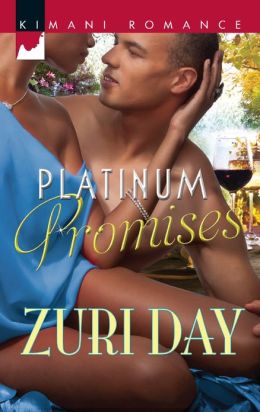 Dexter Drake's wines have helped to make his family's resort and spa become one of the most successful vineyards in southern California's wine country. He is used to playing fast and easy with all the women available to him. He believes that there are more grapes in a vineyard so why stay with just one. But when he sees Faye waiting for an elevator at the resort he cannot help feeling attracted to her, only she is nothing like the women that he usually dates.
Faye knows that anything with Dexter can only be temporary, he is a player and they are from two completely different worlds, two things that cannot be easily ignored. But the sexual attraction between them is like nothing that she has experienced before. And once they act on it, it cannot compare to any of her past experiences. Dexter cannot keep his hands, eyes or any part of his body from Faye, something that does not happen often. He is used to women chasing him, not the other way around. So when it's time for her to leave he will do his best to try and keep in touch with her and be close whenever possible.
Dexter and Faye will not have an easy time accepting what's between them.
They don't want the dynamics of their lives to change in any way, but neither can they stand to not be able to be together. So when other people come into play jealousy comes out of hiding showing that what they have is important. And unless either one makes a commitment they may both just loose out on real love and being the family that they can be.
If you want a very hot read that will keep you warm throughout the entire book Platinum Promises by Zuri Day is the one for you.
Book Info
Publication Date: April 23, 2013 | Series: Kimani Romance (Book 330)
Seduction in the lap of luxury…
Award-winning wines have helped Dexter Drake turn his family's luxury resort and spa into the most successful vineyard in Southern California. Yet Dexter has another talent—his prowess with women. He is having too much fun to settle down…until he meets Faye Buckner, a guest at the vineyard's hotel. Her act of kindness makes it impossible for him to get the beautiful doctor out of his mind.
Faye believes in making the world a better place, and has dedicated her career to saving lives. She plans to concentrate on her work. But she soon discovers that the breathtaking playboy isn't just gorgeous—he is intelligent and compassionate, too. Should Faye remain focused solely on her career or listen to Dexter's passionate promises…and her own heart?