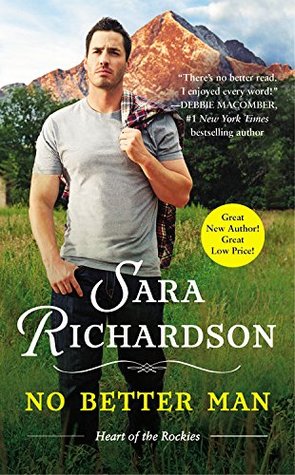 No Better Man by Sara Richardson: I found it hard to believe that this was Sara's debut novel. It was well written and sucked me in from the beginning.
Nothing was easy about Avery and Bryce's relationship. She was trying to convince him to sell the ranch to her father while he was trying to come up with a way to save the ranch from foreclosure. Avery has to struggle with her growing feelings for Bryce while still attempting to achieve her father's goal of gaining the land.
Bryce is initially suspicious of Avery's friendly nature, believing she was only acting to get him to agree to the sale. As he spends time with her, he recognizes that she is truly a good person. Still he struggles with the guilt of feeling something for her because of the guilt he still feels about what happened to his wife.
Bryce needs a reason to move on past the tragedy and pick up the pieces of his life.
"The thing is…" Bryce exhaled and shifted to face her. "I never had a reason to let go. Not until I met you."
In a way, Avery also needed to let go. She needed to make choices based on what would make her happy, not her father.
The secondary characters were well-written and really added to the story. I especially enjoyed Elsie, Bryce's mom, who attempted to play matchmaker at every opportunity. It was clear that Bryce and his friends were a tightknit group that would do anything to help each other, and I'm looking forward to reading their stories in the future.

Book Info:

 May 26, 2015 | Forever | Heart of the Rockies #1
When it comes to business, Avery King always comes out on top. So after a very public breakup, work is the perfect excuse to flee the Windy City for the gentle breezes of Aspen, Colorado. Her mission: acquire the land of a rundown mountain ranch. Avery expects an easy win . . . until she meets the rugged and irresistible rancher who won't give up his property without a fight.
Bryce Walker is stunned by the stubborn beauty determined to get what she wants. But what she wants is his last connection to the life he used to have. Bryce has plans to return the ranch to its former glory and no way will he sell his family home. Yet the more time he spends with Avery, the more her sweet touch makes him forget his painful memories. Now Bryce must decide whether living in the past is worth losing his future . . .