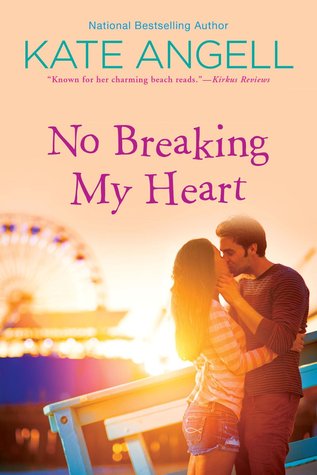 No Breaking My Heart (Barefoot William #5) by Kate Angell is another hit out of the park by Kate Angell. What I love so much about this author is that we get two stories in each book, to chances for HEA, a wonderful set of characters that allow you to follow their ups and downs. I have not read all of the books in the Barefoot Williams series, but I have read a few, and even though this is book 5, it can be read stand alone, as can all of the books in this series. This is the story of Helo and Alyn, Landen and Eden.
Alyn has had her share of let downs. Her business partner stole her money leaving her without the funds to open her antique shop, her boyfriend dumps her right before couples day on a reality game show where she has the chance to win enough to kick start her dream again. Left with no other option, she dresses in her chicken outfit (feathers and all) and goes in search of someone to be the rooster to her chicken. Enter one very sexy, very famous Halo Todd.
Halo is a professional ballplayer and very well known. He has been a player in the past, but now wants to change his image and focus on his career. When he is approached by a chicken, he automatically turns her down. But afterwards, feels obligated to help her out. After losing the game show, he feels responsible and goes to seek her out. What he does not count on is her little brother Danny, a HUGE Halo fan, thinking he won the fan contest and is Halo's winner.
To save face and get closer to Alyn, Halo decides to choose Danny and take the entire family on a roadtrip to spring training. He also comes up with a plan to help himself and Alyn in the process. If she will agree to be his fake fiance for the baseball season, keeping the ladies away and allowing him to concentrate on his playing, he will fund her antique store. It seems like a win win for everyone. But feelings and the heart are a tricky thing. When fake turns real, Alyn and Halo might need to rethink their plans.
The second HEA is Landen and Eden. Landen is looking for his other half, the person that will complete him, make him feel loved, share his life, his dreams. He has been interested in Eden since he first layed eyes on the talented photographer, but thought he did not stand a chance with her, thought that she could not stand to be around him.
Eden has been pining away for Landen since she first met him. But she is not like the women that throw themselves at Landen. What chance does she have against the beauties. But when Eden comes to Landen's rescue, and the more time they spend together, they realized that they have more in common then ever before. After adopting pets together and exploring their feelings for each other, they both realized that they have each found the other half of themselves in each other.
This story is amazing and funny. The characters poke at each other, and who does not enjoy a great book that has some amazing dogs in them. I have read most of this series, never in order and all books can be read stand alone. If you are looking for any amazing summertime read than this is the book for you.
Book Info:

Expected publication: July 26th 2016 | Kensington | Barefoot William #5
Relationship Status: Complicated
Professional baseball player Halo Todd doesn't like failure, but he can never turn down a challenge. Especially when there's a pretty woman involved. How else would he end up dressed as a rooster, helping a complete stranger compete on a wacky game show? Even when they're eliminated after the first round, Halo isn't about to lose the girl…
Alyn is stunned when gorgeous, generous Halo whisks her off for a dream vacation to the beach–she's been let down by friends and even family so many times, she's lost count. Later, he offers to lend a hand getting her vintage shop up and running. But his constant–and ridiculous–purchases are the last thing she needs. How can she convince the stubborn man that she doesn't need his help–not when all she wants is his heart…