In No Christmas Like The Present by Sierra Donovan, Lindsay never slows down enough to enjoy Christmas – there is always so much to do!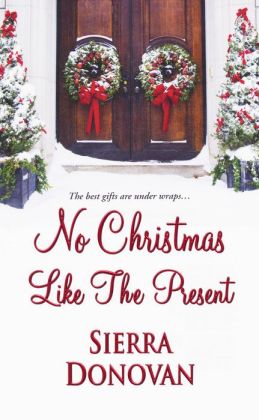 When Fred, a mysterious man, arrives on her door step one day to help her find happiness in the Christmas season again, Lindsay doesn't know if she's crazy or he is.
Fred is on a mission from Headquarters…and this season Lindsay is his mission. Part of Fred's goal is for Lindsay to finally face a past that still haunts her. Lindsay has no desire to revisit a past that has never felt anything like the present with Fred. As Fred and Lindsay spend time together this Christmas season, both of them start to feel an unexpected connection to one another, to have feelings neither anticipated. But Fred is not here to stay, and he has a goal to accomplish, whether it's what he wants or not.
When Christmas finally comes and goes, will Lindsay find peace after her time with Fred? Will she finally be able to let go of the past and move on?
Sierra Donovan gives us a magical fantasy of a Christmas story in No Christmas Like The Present! She pulled me in quickly, and I couldn't wait to see where she went with Lindsay and Fred's story. There are so many ways she could have went, and she managed to keep me guessing about how it would all turn out. I love stories that can intrigue me like that.
Lindsay and Fred are both strong, entertaining and unforgettable. Their story is a fun holiday read that made me think of what ifs, believe, and hope. With her vivid writing and descriptions, Sierra really brings Fred and Lindsay to life and they are easy to like. Lindsay is such a relatable woman, and wouldn't we all like a Fred in our life…a man who really puts his heart into everything.
Sierra leaves enough unsaid about Fred and Headquarters to keep things mysterious, leaving the reader to use their own imagination. At times I really just wanted to know more, but the story did not suffer because of that.
Taking time to enjoy the season and life in general, to believe in the unbelievable, No Christmas Like The Present is a fast paced, don't put me down read that I'd recommend to any reader looking for a heart warming Christmas romance.
Book Info:

Published October 7th 2014 by Zebra
Lindsay Miller is knee-deep in Christmas cards and homemade fudge, but she's never felt more like a Grinch. Why can't Christmas be full of magic, like in her favorite movie, A Christmas Carol. . .?
. . .Enter Fred, a sexy and eccentric stranger who arrives at Lindsay's door out of the blue. Dressed like he just stepped out of a Dickens novel, complete with British accent, Fred claims he's a Messenger, sent from "Headquarters" to help her discover the joy of Christmas. But is Fred an angel from above—or just stone cold crazy?
Fred's used to dealing with skeptics. Telling a stranger you've been ordered to inspire holiday cheer is a tough sell. But there's a further complication. Fred's mission is to help Lindsay right the wrongs from her past that have been holding her back. But somehow along the way, they've become wildly attracted to each other—and falling in love is not part of the plan. Fred only has 'til the stroke of midnight on Christmas Eve to guide Lindsay to the magical future she deserves—even if it's a future without him. . .