Not Another Family Wedding Jackie Lau covers a lot of ground in her latest romance, a friends to lovers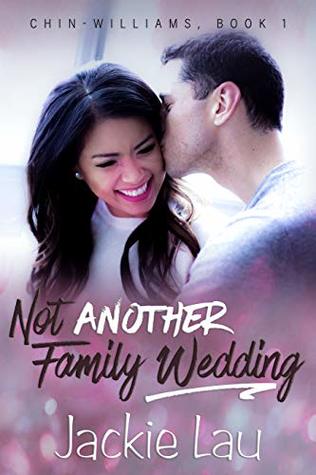 story full of family wedding drama.
Natalie asks her long time university friend Connor to be her plus one at her sister Rebecca's wedding. Family weddings have always been fraught affairs with something happening to create a memorable day, sometimes funny, sometimes not. Natalie has a white mother and a Chinese father and their respective families weren't thrilled with their union. Their prejudices and racial biases exist to this day. Natalie knows that there will be the inevitable disagreements and just wants someone there to be her moral support. When Connor agrees, they also find that in close quarters there's a new attraction, leading to a sexy affair. But Natalie knows from experience that her not wanting to have children is a deal breaker when it comes to relationships. Do she and Connor have a chance at a happy ending?
I really enjoyed this story. It's rare to find a romance where the female character has no plans to have kids. It's also rare to find one where the heroine has had an abortion (this may be the only story I've read in this regard) from an unexpected pregnancy. That's part of Natalie's history, brought up simply as a matter of fact and part of her determination to remain childless. When Natalie's sister Rebecca was born (Natalie is 11 years older) their mother went through a long period of post partum depression and Natalie became her sister's caregiver for much of the time, until her mother, and eventually her father (who hadn't wanted a baby) took over their proper parental duties. It left her frightened of the effects of PPD, and not wanting the responsibility of another child. She enjoys being around children and relates to them well, so long as they are not going home with her at the end of the night.
Connor has his own issues with children, and is also not unhappy that his first marriage ended with them being childless. He's a great uncle to an energetic toddler but doesn't feel his life will be bereft without his own kids. In this way he's a perfect match for Natalie. But Natalie is so used to being rejected for her views on children that she's afraid to share them with Connor and spoil the bubble of sexy fun they've created for themselves at the wedding, even as other events are happening around them that make her question marriage and long term relationships.
Along with the typical wedding stress, the challenges of dealing with racist and homophobic relatives make for some uncomfortable situations. Natalie's brother is married to a wonderful Chinese man but that wedding has also brought out the less savoury aspects of their family. Natalie's paternal Chinese grandmother has become more accepting since the death of her husband and provides some of the more humorous moments in the story. The author does an excellent job of showing both cultures, the historical challenges of being immigrants to Canada and combining Rebecca's biracial heritage in her wedding celebration. Natalie has a lot to deal with at this wedding, including relatives questioning her unmarried and child-less state and even though Connor is just a friend (and then more) he is a great buffer to help her realize that her feelings are valid and normal and that she has value as a person on her own.
The romance is pretty sexy amid all the drama. It's Connor who falls first and wants to take a chance on something more, and Natalie who has doubts. But in the end she's willing to risk her heart for the man who wants to stand by her side. Jackie Lau continues to write with an authentic voice and I am looking forward to more from her. Also, I'd be remiss if I didn't mention the great cover choice! It's wonderful to see the characters well represented.

Book Info:

Publication: Sep 25, 2018 | Self Published | Chin-Williams #1
Natalie Chin-Williams might be a cranky professor of climatology who thinks the world is doomed, but she believes in lasting love…just not for herself. She has a long history of failed relationships, plus the men she dates inevitably want children and she doesn't.
Now thirty-six and single, Natalie expects endless comments about her love life when she attends her baby sister's wedding. Worse, weddings are always drama-filled disasters in her family. She needs emotional support to get through the weekend, so she enlists the help of her friend Connor Douglas, the dependable family doctor.
The wedding reception goes south when a drunk aunt announces a family secret that sends Natalie reeling and shakes her faith in love. Luckily, she has her long-time friend to lean on—a man she somehow ends up kissing. But there's no way this could turn into anything lasting, is there? That's impossible for her, especially now…