The Heartless Boyfriend by Erika Kelly: Will is driven, determined, and 100% dedicated to his sport. His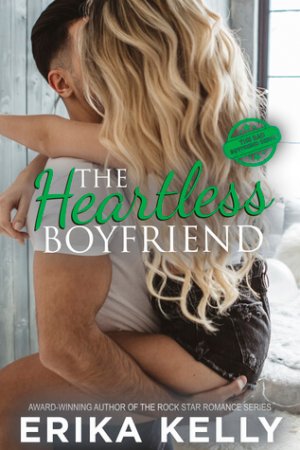 entire focus is on preparing for the next Olympics and finally getting that gold medal to go with the medals from his seven championships. He has a unique ability to shut out everything else and just focus on the goal at hand, thanks to living by a strict routine and schedule.
Delilah is the youngest of seven siblings and she's earned her place as a Cordon Bleu trained chef in the family restaurant business. She loves nothing more than to experiment and put creative spins on traditional menus. She's smart, feisty, extroverted, and seriously loves food.
The rugs have been pulled out from underneath both of them in events they never saw coming. Will and his brothers are suddenly responsible for the adorable but determined 2-year-old Ruby. None were prepared for raising a toddler, but Will immediately steps up and takes over. Delilah loses out on the restaurant of her dreams, and needs distance from her well-meaning but tactless siblings. Entering in a cooking competition in Wyoming is just the fresh start she needs.
"Sure. Where were you headed?"
"If I tell you, you'll think I'm a bubblehead."
"Try me."
"The train station."
Now, he cracks a smile. "Yeah, you're not anywhere in the vicinity."
Will is, quite understandably, in over his head with Ruby. Delilah is exactly what he and Ruby need, as Delilah is great with kids. Will and Delilah are opposites and butt heads quite a bit as she challenges him, but she also becomes his staunchest defender when he runs into one problem after another in his career. Delilah and Ruby are distractions he doesn't need, but he can't stay away from either one. Will and Delilah grow closer than either expected and things definitely heat up.
"You like everything about me?"
"I do."
"I'm an expert houseguest. I don't leave messes, and I'm helpful."
"You are."
"And a great cook."
The Heartless Boyfriend is fun, sexy, heartwarming, and all about family. Erika Kelly created interesting family dynamics, conflict, and plenty of heat while developing the characters and relationships. Ms. Kelly provided an entertaining cast of characters that I can't wait to follow through the rest of the series. The Heartless Boyfriend can be read as a standalone in this series. Fans of Kristen Proby, Kate Meader, and Rachel Van Dyken will enjoy The Heartless Boyfriend.
Book Info:

Publication: October 16th 2018 | EK Publishing, LLC | Bad Boyfriend, #2
There's not an athlete alive who can match Will's drive and self-discipline…until an adorable two year old and a fiery chef land on his doorstep and turn his life upside down. If he wants to keep his girls, he's going to have to learn to lead with his heart and not his mind.
Will Bowie is supposed to be training for the Olympics, but the toddler unexpectedly dropped into his life isn't interested in his schedules. Still, he's pretty sure he's got things under control…
…until a sexy chef lands on his doorstep and offers a temptation he can't resist.
Hours after losing her restaurant, chef Delilah Lua enters a cooking competition thousands of miles away from home. Winning would resurrect the dream that's been stolen from her. If—no, when—she wins, she'll go back with the capital to open her own place and enough fame to do it with flair. Her roommate, though, is a delicious surprise she hadn't anticipated…
…but she's not sure how to have her cake and eat it, too.
Despite the undeniable sparks in the kitchen, Will's not about to give his heart to another woman who's leaving, and Delilah must decide if the delectable future she could cook up with Will is worth more than a childhood dream.