In Not Quite Mine by Catherine Bybee, Life just got a bit more complicated for Texas beauty Katie Morrison. Growing up in the public eye without the guidance of her runaway mother was tough, but she has learned to embrace the decadent lifestyle of a hotel heiress for all that it's worth. So when a baby is left on her doorstep with a cryptic and very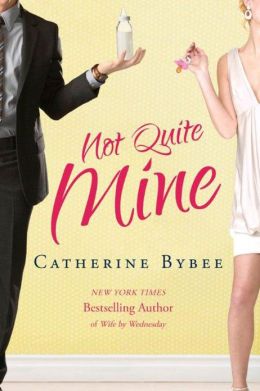 personal letter, for once she has to think about something more than just partying and traveling. Katie is instantly smitten and decides to keep the infant girl for now while she sets out to find the birth mother. She feels like she needs to keep the baby a secret from as many people as possible until she has more information and can make a competent decision.
At every turn, however, her brother's best friend Dean is interfering, passing it off that he's worried about her. She wishes Dean would just leave her alone. Seeing him brings up unresolved feelings from the brief but passionate affair they had a couple of years earlier. So much has happened to them both since then, but somehow their chemistry hasn't changed at all. Trying to work with him on the new hotel job site is as much torture as is keeping secrets from him about the baby, and the real reason they split up. He beings to figure out some of the mystery surrounding Katie's life and she has to choose whether to let him in again or shut off her heart to him for once and for all.
"'No problem, darlin'." Darlin' rolled off his tongue with such a smooth tone she felt him sliding back into her system. It wasn't often Dean used his Texan charm, but when he did, a woman was helpless not to fall under his spell."
Dean Prescott thought he was over Katie Morrison until he sees her again at his best friend, and her brother's, wedding and realizes he still can't keep his eyes off her beautiful face. He's just getting over a break up himself and the last thing he needs is to dredge up past feelings. But Katie's brother puts him in charge of keeping an eye on her when she arrives at the new hotel work site. He does admit she seems a little out of sorts and isn't spending time partying like she once did. Dean hopes maybe she's grown up and is focusing on her career. But the more he digs around, the more questions he has about her current life. Then the appearance of a baby in her care has him shocked. In the midst of unraveling the secrets he realizes how much he still cares about Katie. He acts on his feelings instead of pushing them aside again and gives her the choice to accept him in her life or not.
"Just a glimpse of her always knocked the wind out of his lungs. Her porcelain skin and pink lips were more tempting than any he'd ever seen. He remembered those lips on his, the feel…the taste."
Catherine Bybee has written a solid, wonderfully touching romance. This story is much more down to earth and full of Texas charm than it is an insight into the lifestyles of the wealthy. Katie is already becoming an adult at the beginning of the story by putting her career into motion, but she's soon forced to take on more responsibilities, which she does with grace. It's nice to see a "rich girl" character in a story that focuses on personal growth and true romance…not just brief flings. And Dean is every bit the Texan at heart. He's hardworking, loyal and protective. I loved the humorous flirting between him and Katie. Very hot! I would definitely recommend this if you like reading romance with a lot of love, some definite heat, and a bit of a mystery to figure out.
Book Info
Publisher: Montlake Romance (May 7, 2013)
Buy Links: A
Gorgeous hotel heiress Katelyn "Katie" Morrison seems to have it all. But when she crosses paths with Dean Prescott—the only man she's ever loved—at her brother's wedding, Katie realizes there's a gaping hole in her life. After the ceremony she gets an even bigger surprise: a baby girl left on her doorstep. Determined to keep the newborn until she learns who her mother is, Katie has her hands full and doesn't need Dean snooping around…especially when his presence stirs feelings she thought were long gone.
Dean Prescott knows Katie is lying to him about the baby. He shouldn't care what the woman who broke his heart is up to…and he most certainly shouldn't still be aching for her. Yet Dean can't ignore the need to protect Katie—or the desire to be near her every chance he gets. But when he and Katie solve the mystery surrounding the baby, their second chance for happiness could be shattered forever.