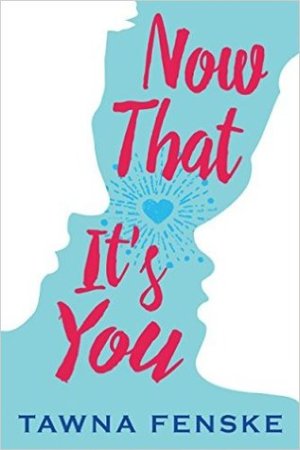 Now That It's You by Tawna Fenske is more than a romantic comedy. The story takes two people on a journey of love and forgiveness.
When Meg realizes her former fiancee, Matt, is in the hospital, she goes there with an attempt to bury the past and let bygones be bygones, after all, it's been two years. See, he cheated on her before their wedding, so she called off the wedding. The only problem is when she gets to the hospital, she's informed that Matt has died.
Kyle and Meg lost their friendship when she broke up with Matt, but now in his death, they are brought together. The chemistry between Kyle and Meg is apparent. They really are a great couple. They see each other in ways others do not. Kyle is supportive of Meg and there for her when she needs comfort. I really thought they were made for each other.
Kyle is…an interesting hero. Ever since he laid eyes on Meg, he's wanted her. But she was his brother's girlfriend and that was the end of that. Before Meg's wedding to Matt, Kyle and Matt went to a bar and had some drinks. Basically, he was the catalyst that broke up their wedding. Let's be clear, it's Matt's own fault that his and Meg's relationship was over, but Kyle did push a weak man into a decision that affected all of their lives.
Even though Meg is sweet and kind, she comes off a little weak. She allowed Matt to walk over her while they were together, then once she finds out he cheated on her, she offers to pay for the wedding because it was her fault she canceled it. She should have never been put in that situation in the first place and in no way should she have had to pay for anything. She also lets Matt's mom treat her like crap. I really didn't like how they took advantage of her and treated her badly. As for Kyle, there were times when I adored him because of his love for Meg and then there were other times when I wanted to jump through the pages and body slam him. I had a hate/love relationship with the characters, but one thing is for sure, they were compelling yet flawed, which are good characteristics to have.
I struggled with the rating before I finally settled on 4 stars. The writing is done very well, the characters are complex and the situations they end up in, are anything but easy. I was very pleased at the humor invoked in the story and how it was it able to turn some depressing moments into lighthearted ones. Overall, it was a unique read that touches upon difficult situations and inspires strength, forgiveness and love.
Book Info:

 September 6th 2016 | Montlake Romance |
Talented chef Meg Delaney hasn't spoken to her cheating ex-fiancé, Matt Midland, for two years. Ditching him at the altar after blurting out "I can't" instead of "I do" would sour any relationship. But now, just as Meg is finally ready to bury the hatchet, she learns closure is permanently off the menu. And the kicker? Matt's brother, Kyle, is back in her life, stirring up feelings that are equal parts guilt and lust.
Meg was the best thing that never happened to Kyle. He couldn't make a move on his brother's girlfriend—even if Matt didn't value her nearly enough. The situation is even more complicated now that Meg's bestselling aphrodisiac cookbook has spawned a legal battle with the Midlands. Maybe he should stay away. But love, like family, plays by its own rules. And the one woman he shouldn't want might be the only one who's perfect for him.