In On the Run (Sugarland Blue #4) by Jo Davis, when Sugarland police detective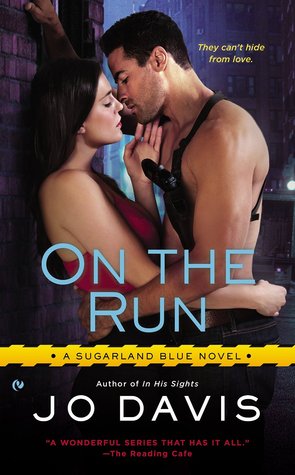 stumbles on to the criminal element in a bar he just goes to to seek anonymity, the stakes will be high! Tonio is suddenly undercover trying to break up a crime ring…while at the same time he is incredibly drawn to the criminal's sister Angel. Angel feels the same way, but she has no interest in getting involved in one of her brother's criminal friends. As Tonio's work takes him deeper and into dark places, Angel becomes his light. Despite both of their best intentions, they are soon involved on a very personal level…and Tonio will do what it takes to solve the case and keep Angel safe. Can he do either or both though? Things are becoming very dangerous on the job and very hot between Tonio and Angel. Will they have any kind of future together?
Jo starts of On The Run with a very intriguing prologue that pulled me in and made me want to keep reading. As she pulled me deeper into On The Run, I really enjoyed the suspenseful plot that had a lot of heat between the main characters. I really liked both of the main characters. I liked how Tonio didn't hold Angel's brother and his crimes against her, and I liked how she wasn't all angsty thinking he'd never want to be with her because of her brother. I liked how their relationship developed and moved along, and how Tonio and Angel were together. The connection between them was so strong. Their relationship was fast but believable in a plot filled with action and danger. Jo weaves in pieces about them throughout the plot at just the right times and I liked getting to know both of them.
The suspense was strong with Tonio's undercover work. I don't know how realistic it was…he just stumbled onto this, then was undercover but gave away a lot of himself to Angel. But realistic or not, I enjoyed the plot and the pace of On The Run. I liked how Jo gives us the who but I had no idea how things would turn out with the undercover operation or Tonio and Angel's relationship.
There are some very steamy, explicit scenes in On The Run, and as I read and understood what was going on they fit in well in various ways that if you read On The Run you will understand! There are some great secondary characters who will totally surprise you!
Although On The Run is part of the Sugarland Blue series, it can be definitely read as a stand alone.
I'd recommend On The Run to romantic suspense readers who like things hot and dangerous!
Book Info:

April 7th 2015 by Signet | (Sugarland Blue #4)
In the latest Sugarland Blue novel, Detective Tonio Salvatore always puts his job first—until a beautiful piece of trouble has him questioning the rules he's sworn to live by…
Tonio knows that loneliness is the price he has to pay to avoid being hurt again. But the strictly by-the-book cop never expected to be blindsided by a woman who pulls him right out of his self-imposed isolation.
Angel Silva isn't just from the wrong side of the tracks—she's on the wrong side of the law. She's desperate to break free from her dangerous brother and his gang, but when a sexy new recruit joins them, Angel is more trapped than ever—because the ruthless Tonio Reyes isn't what he seems. When she discovers the man she's falling for is one of Sugarland's finest, she's forced to go on the run.
Instead of taking Angel into custody, Tonio finds himself risking his career to keep her safe. And as the beautiful woman tears down all his defenses, Tonio realizes he'll risk his very life to set her free.