Once and For All: An American Valor Novel by Cheryl Etchison: Bree is just looking for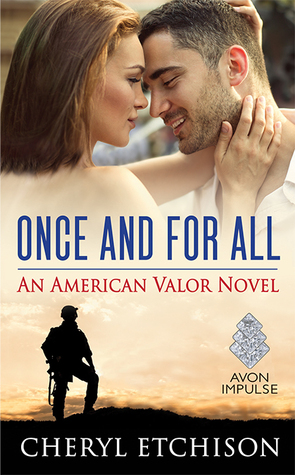 a bit of space. Ever since she was diagnosed and successfully fought cancer twice, she's been living at home and smothered by her well intentioned family. She needs a fresh start where people will treat her like a normal person and not a patient. Danny loves his job. He loves the adrenaline and brotherhood of the military. Ever since joining the army, he's been determined to remain single and has no plans for a wife and family.
Danny and Bree were neighbors, childhood friends, and sweethearts until the day he left for the military. Danny goes home during his leave and unexpectedly runs into Bree. He's shocked to see how much she's changed and surprised to find out everything he has missed over the last 10 years. Both are shocked by Danny's impromptu offer of a convenient marriage to solve Bree's problems.
Bree shook her head in disbelief. "This is your great idea? You want me to marry you? I don't know if I even like you anymore."
He flashed his best smile. "Well then, you'll fit right in with a bunch of the other wives and girlfriends since they don't like me, either."
Their marriage of convenience seems like a great plan; it solves Bree's immediate problems and Danny can play the knight in shining armor after breaking her heart in the past. But neither bargained on the past that lays between them, nor the incredible chemistry that burns just as hot now as it did all those years ago. Their marriage of convenience begins to feel a whole lot more real and something that could be worth committing to.
"What did you do?"
Danny shrugged his shoulders. "It's not the first time I've done it. Not a big deal."
"Not a big deal, huh?" Bree smiled through the tears. "You shave your head for all the girls?"
Once and For All is an emotional and fun marriage of convenience and second chance romance all wrapped up in one sexy package. Cheryl Etchison provided a good balance between the past and present, and between the fun, serious, and sexy times. Ms. Etchison created great characters in their family and Danny's military family. Fans of Chanel Cleeton and Lauren Christopher will enjoy Once and For All.
Book Info:

Publication: May 24th 2016 | Avon Impulse | An American Valor Novel
The Rangers of the 1st/75th fight hard, train hard and play hard. They are physically strong and mentally tough, disciplined and courageous. But all their military training hasn't prepared them for falling in love.
Rule #1: Military and matrimony don't mix.
But if there's one person Staff Sergeant Danny MacGregor would break all his rules for, it's Bree—his first friend, first love, first everything. Maybe he likes playing the hero. Maybe he's trying to ease ten years of guilt. Either way, he'll do whatever he can to help her.
Wish #1: A little bit of normal.
Bree Dunbar has battled cancer, twice. What she wants most is a fresh start in a place where she can find a new job, and where people aren't constantly treating her like she's sick. By some miracle her wish is granted, but it comes with one major string attached— the man who broke her heart ten years before.
The rules for this marriage of convenience are simple: when she's ready to stand on her own two feet, she'll walk away and he'll let her go. Only, as they both know all too well, things don't always go according to plan…