In Wedding Girl by Stacey Ballis, Being left at the altar was not exactly how pastry chef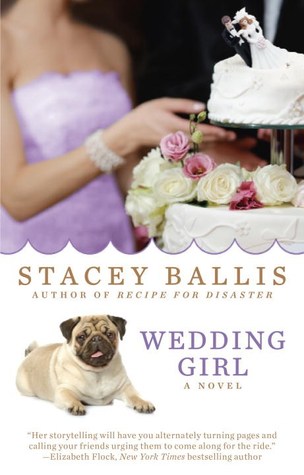 Sophie Bernstein saw her life going when she got engaged to her boyfriend. The lavish wedding, all being paid for by her, was stopped abruptly with the news of her fiance skipping town with another woman, eloping on what should be the happiest day of Sophie's life. That betrayal ended up starting a chain of events leaving her broke, having to move in with her grandmother, Bubbles, and her portly pug, and losing what she thought was her dream job at a local high-end restaurant. Things have to get better, though, right?
"The sad thing is I still believe in marriage and I still believe in weddings. I may have really picked the wrong guy, but my wedding was perfect. It was everything I ever wanted, except for the who not-actually-getting-married part."
Sophie soon falls into a routine with her octogenarian grandmother but needs to find a source of income to pay for her non-wedding. The local bakery was the last place she expected to work. And she definitely didn't think she would enjoy herself. But it feels nice to be baking again and to feel needed. Along the way, Sophie's personal life starts to look up as she hits it off with a nice man online after getting talked into setting up an online site giving advice about weddings and big events. She's not sure if he'll end up being The One, but it brings her one step closer to feeling like herself again. Or at least the new improved version of herself. And that's what matters.
'I refuse to be one of those girls who is shamed by the size of her ass. Whatever. Life is too short, and cake is delicious, and there is nothing wrong with taking up some space in the world.'
What an absolutely charming read! As funny and witty as Wedding Girl proved to be, it was also a good lesson in accepting life's challenges and finding the courage to move forward with humility and grace. Sophie did exactly that thanks to a bit of help from her family and friends along the way.
This is the first time I've read anything by Stacey Ballis (I know!) and I can totally see what the buzz surrounding her work is all about. I was completely taken with the storytelling itself, as it painted a picture of Sophie, her family, their background, and the lovely Chicago neighborhood this was based in. And the food. Oh. My. Goodness. The food. I must say that the characters were all very well developed–and there was a rather large cast–but what I loved most about them is that they were so *real*. Each had their own distinct personality and Ballis wasn't afraid to show their flaws or to let them make mistakes. Especially poor Sophie.
I'm always a sucker for upbeat quirky characters and this book was chock full of them. I adored Sophie's grandmother whom she called Bubbles, as well as her hippyish parents. They all had their own threads in the story, their own bit of personal drama to add to the mix which was great. And it wouldn't be complete without a rascally animal of some kind. In this case it was a sweet senior pug with a hysterical, if not slightly inappropriate, name. Loved him and the comical bits of conversation that happened because of it.
I thought there was a great sense of humor that cut through the more serious moments in the story without diminishing the importance of those scenes. It started at the very beginning with Sophie's non-wedding, which she handled much better than I would have. She was the type of character who I can't help but cheer on. From her self-deprecating humor, to her loyalty to loved ones, and her passion for food, I felt like Sophie was a very relatable character. One who represents the type of friend I think most of us appreciate. And while she may not have always made the right decisions the first time, the choices she did make were believable and led her to where it seemed like she was supposed to go.
Equal parts heartfelt and hilarious, Wedding Girl was a wonderful example of the healing power of family and what you can accomplish when you believe in yourself. And for all you food lovers out there, Ballis included some incredible recipes at the end to entice us all with the comfort foods detailed in Sophie's story. Enjoy!
Book Info:

Published May 3rd 2016 | Berkley |
You've Got Mail meets Julie & Julia in the new foodie fiction from the author of Recipe for Disaster.
Top pastry chef Sophie Bernstein and her sommelier fiancé were set to have Chicago's culinary wedding of the year…until the groom eloped with someone else in a very public debacle, leaving Sophie splashed across the tabloids—fifty grand in debt on her dream wedding and one-hundred percent screwed on her dream life. The icing on the cake was when she lost her job and her home…
Laying low, Sophie moves in with her grandmother, Bubbles. That way, she can keep Bubbles and her sweater-wearing pug company and nurse her broken heart. But when Sophie gets a part-time job at the old-fashioned neighborhood bakery, she finds herself up to her elbows in dough and reluctantly giving a wedding cake customer advice on everything from gift bags to guest accommodations. Before she knows it, she's an online wedding planner. It's not mousse and macarons, but it pays the bills. But with the arrival of unexpected personal and professional twists, Sophie wonders if she's really moving forward—or starting over from scratch…
Includes Recipes