One Colorado Night by Joanne Rock: Jessamyn Barclay has left Catamount, Colorado behind and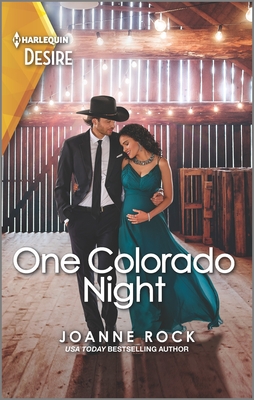 become successful in a real estate business with her father. She has disconnected from her two sisters after the horrible divorce their parents went through. Now she has to return to Catamount to work with these siblings on securing the ranch her grandmother left them. That won't be easy since their father is fighting the will because he was the son and feels the ranch should have been his.
If things weren't crazy and difficult enough, Jessamyn ends up having to deal with her ex-boyfriend who owns the ranch nearby. They broke up years ago and she still doesn't want to trust him. Ryder Wakefield has grown up from the time he knew Jess and her need to succeed even in junior horse events. Will they both be able to deal with the sparks that still fly between?
Since the cover of this terrific tale shows a pregnant woman, it's no spoiler to state Jessamyn ends up pregnant with Ryder's baby despite precautions. This novel does a tremendous job of taking the reader on the journey the heroine and hero take along the way. It's very easy to relate to them. They are basically kind people, even when dealing with roadblocks and issues along this path.
This is the second in a series. Fleur, who was the focus of the first book, still plays an excellent secondary role. The baking she does made my mouth water. As Jessamyn learns more about her father that was not apparent before, she has to decide what course her life will take from now on.
Joanne Rock has crafted another fabulous story with plenty of sizzle and emotional depth.I look forward to book #3 in this family series where I can travel to another location and lifestyle.
Book Info:

Publication: June 28, 2022 | Harlequin Desire | Return To Catamount #2
Reuniting with an ex results in a reawakening of passion—and a baby on the way!—in this Return to Catamount novel by USA TODAY bestselling author Joanne Rock.
She vowed to make peace with her past.
Now she's having her ex's baby…
After her parents' messy divorce—and her own bad breakup with rancher Ryder Wakefield—Jessamyn Barclay cut all ties to Catamount, Colorado. But the New York real estate guru is back, reuniting with her estranged siblings to claim their inheritance—and reuniting with Ryder to rekindle their undeniable fire. Now Jess is expecting his child. Will she give their relationship a real second chance, especially once she learns the secret he's been keeping about her father?