One King's Way by Samantha Young: Craig is a sexy bartender who is well known for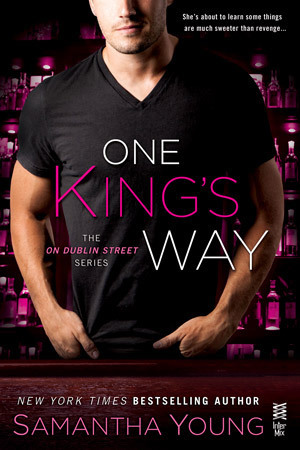 flirting with all of the women who make their way up to the bar at Club 39. After taking responsibility for his mom and sisters at a young age, he is more than happy to play the field and offer one-night stands to like-minded women. But when Rain walks into the bar, she immediately captures his full attention.
Rain is a woman on a mission. She's determined to find her sister's no good ex and get revenge. She resorts to hanging out at a bar to accidentally run into him. Her attention is drawn to the charismatic Craig, but she has no use for any man who refuses to cater to her romantic nature.
"I take it you expect me to return the gesture of info dumping."
He grinned at me. "It would be nice."
I felt that flutter in my belly again. "Stop flirting with me, Craig," I repeated solemnly.
His grin changed to a coaxing smile. "Not possible, Rain."
Rain is totally new for Craig; she's a beautiful woman who refuses to fall at his feet. He's determined to show Rain that he is capable of more than she expects and that their chemistry is too strong to deny. In a last ditch effort to stay away from a heartbreak just waiting to happen, Rain attempts to scare him off.
He liked to think he was a smart man, and that a smart man wouldn't run away from this kind of extraordinary. A smart man would stick around and fight for it. Even if he couldn't promise a happily ever after.
But what man could promise such a thing?
Both Craig and Rain are incredibly loyal and devoted to their family, as well as being stubborn and possessive. They understand the importance of family, which is one of the things that draws them together. Craig shows an unexpected romantic side in his efforts to show Rain how important she is to him.
One King's Way is a novella that I didn't want to put down! Samantha Young creates a dynamic chemistry and great banter between Craig and Rain. Ms. Young also provided an entertaining cast of secondary characters in the other Club 39 employees and both of their families. One King's Way can be read as a standalone in the On Dublin Street series. Fans of K.A. Tucker, Abbi Glines, and Jamie McGuire will enjoy One King's Way!

Book Info:

Publication: Expected publication: November 3rd 2015 | Penguin Publishing Group | On Dublin Street #6.5
The New York Times bestselling author of On Dublin Street returns to the bar where it all began with Braden and Joss for a white-hot new novella full of passion and drama.
When he's not working at the club, Craig Lanaghan looks out for his mother and little sisters. So when it comes to women, all he wants is a good time. But once Rain Alexander walks into his life, there's no denying that this woman could be worth much more than a one-night stand….
Rain's lifelong regret is having left her sister Darcy alone years ago with a guardian who turned out to be abusive. So when Darcy's boyfriend publicly humiliates her in a cruel way, Rain's overprotective instincts kick in and she follows him to Club 39—where she meets a guy who just might be her perfect match.
The chemistry between Rain and Craig is explosive, but Rain is out for revenge, and refuses to be sidetracked by flirtation. As things between them heat up, she'll have to make a heartbreaking choice between giving in to the man of her dreams or putting her sister's happiness first….