One Little Thing by Kimberly Lang: Sophie has returned to Magnolia Beach to bring a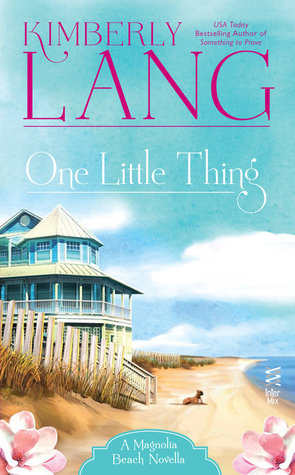 run-down B&B to life again. She grew up here and her family left following a scandal. Since she's been back, Sophie has stayed pretty close to the B&B to prepare for the opening. She also happens to enjoy starting every morning by looking out on the beach and her very attractive (and often shirtless) neighbor who tends to play with his dog right in front of her B&B.
Quinn now runs the town's newspaper, but he used to be a geek in high school. He had a crush on the popular Sophie when they were in school, so he's very much enjoying her attention each and every morning. They finally get a chance to reconnect when Sophie is convinced to attend a local event and Sophie is able to meet the guy from the beach.
"You liked it." She smacked him on the arm. "You were enjoying it."
He couldn't help the grin. "So were you," he reminded her.
"True," she admitted. "But at least I feel a little ashamed about it."
"I have nothing to be ashamed of. I just took my doggie to the beach."
Quinn realizes that the adult version of Sophie is just as appealing as the teenager, and he decides to make his move. They are adorably awkward at first, especially since Sophie may not entirely remember their conversation when he had to walk her home one night.
"Well, I'm happy to feed you but this is not fun work. You don't have to stay and help."
He reached for one of the pickle slices and popped it into his mouth. "Since I'd like to see you tonight, volunteering my labor is not fully altruistic."
A little thrill of excitement shot through her.
So much for being patient.
One Little Thing is an entertaining small town romance and perfect for readers who are looking for a quicker read. Kimberly Lang draws you into the town and its residents with each new story. Ms. Lang provides a hero and heroine who aren't perfect, but who are perfect together. Fans of Jill Shalvis and Kristan Hannah will enjoy One Little Thing.

Book Info:

Publication: Expected publication: November 17th 2015 | InterMix | Magnolia Beach #1.5
The USA Today bestselling author of Something to Prove presents a charming novella set in the small Alabama waterfront town of Magnolia Beach, where new love is challenged by long-buried secrets…
Even though her family moved away in disgrace after her father's affair, Sophie Cooper knows that her childhood home in Magnolia Beach is the right place to open her bed and breakfast on the water—especially if it means she can watch the handsome local walk his dog on the beach every morning…
Quinn Haslett's greatest regret has always been exposing the affair between Sophie Cooper's father and their high school physics teacher—not that she ever knew who spilled the beans. When he sees Sophie again, the guilt comes rushing back, but it doesn't stop him from wanting to see if the sparks flying between them could lead to something more.
But with a such a big secret lying in wait, it's only a matter of time before their newly ignited relationship goes up in smoke…