In One Night More (U.S. Marshal's #1) by Mindy Baxter, Harper is a journalism grad out celebrating with her friends. when U.S. Marshall Galen steps in to save her from a situation that could quickly turn bad for Harper. With an instant attraction for both of them, they are soon in Harper's apartment enjoying a very hot one night stand. With no names or numbers, there is no pressure and they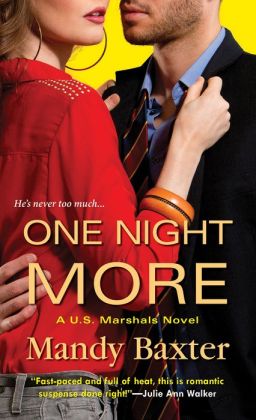 both enjoy each other.
Circumstances the next morning have Glen making assumptions about Harper…and as much as he is attracted to her, that changes his opinion of her and he sneaks away and out of her life the next morning.
A year passes, but neither can forget that one night. When they meet again under very unexpected circumstances, Galen forces himself to pretend he doesn't know her – for her sake and the sake of his job. Harper is a witness to a senator's death…and once Galen finds this out he is determined he is the only one who can protect her. As the sexual tension heats up, how long can Galen pretend the past didn't happen? Can he keep Harper safe and still protect his heart? Or will he move on from the past and give them a chance, if they have one?
One Night More is an entertaining story with interesting characters who have great chemistry together. At times realistic, and at times not quite believable, their relationship is full of struggles. Galen is protective and he wants not only to get his job done without losing it, but also to keep Harper safe. And sassy Harper is driving him to distraction! Harper drove me a little crazy at times, she was either oblivious to the danger or just didn't care, which put not only her in danger but others as well. A little self absorbed and not much respect for the law at times, she was a hard person to feel a strong connection with. However Galen really is smitten with her even if he tries to hide it, so I found myself hoping they could somehow work things out. I did feel that it took them a bit too long to clear the air of the past. I enjoyed the dual POV's that Mindy gave in One Night More. I really feel this added a lot of depth to the story, and a better insight into Harper and Galen.
Along with the romantic aspect of One Night More, there is the suspense/drama to keep things interesting, and their romance is well written in with this. A bit slow paced to start, it did pick up close to the end with a conclusion that was not obvious for me.
The secondary characters all have their roles, and they worked well with the plot. Landon, is who we will be seeing more of in the next book, and Mindy managed to intrigue me enough that I will read the next U.S. Marshal's book.
With humor, romance, suspense and lots of conflict, I'd recommend One Night More to contemporary romance readers who enjoy some drama woven into the plot.
Book Info:

Published September 2nd 2014 by Zebra | (U.S. Marshal's #1)
Savvy, hard-riding, rule-breaking—they'll go anywhere and do anything it takes to protect and serve. But this U. S. Marshal has just met his match—and playing for keeps is one sizzling game…
Getting saved from disaster by a handsome stranger—Harper Allen has no problem with that. But when he leaves without a word or a clue to his real identity, the newbie reporter writes it off as the best one-night-stand she'll never have again. Until a year later, when Harper comes face to face with the man assigned to hide her from a senator's killer…
Galen Kelly hasn't forgotten a single sensual minute of his night with Harper… or that she betrayed him. But with the FBI also on their trail, he's got to pretend he's never met her or risk both their lives. But as danger closes in, Galen may not be able to protect himself from taking the biggest risk of all…