In One Night…With Her Boss by Annie O'Neil, sports physician Dr Ali Lockhart is leaving the ghosts of her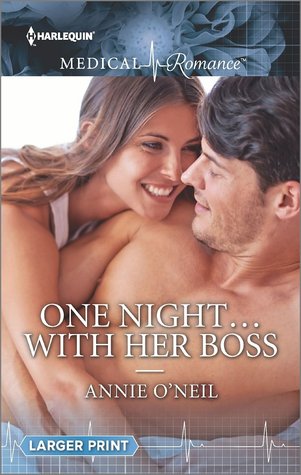 life-changing accident behind. A Valentine's fling is just what she needs before starting her new job… but then her handsome stranger turns out to be her new boss! And after that steamy night the forbidden promises to taste even sweeter…
One Night…With Her Boss by Annie O'Neil was a well written romance on the one night stand trope.
Ali is a complete cynic when it comes to love but when she meets Aiden, sparks fly and she has her first one night stand. Aiden is a someone who does not do commitment. Ali is the first person in a very long time who affects him a lot more than he lets on.
The romance is enjoyable because of the good chemistry the characters share but there is not much concrete development in the emotional department. A lack of a proper plot also effects the story but on a whole it was a good one time read.
Book Info:
I

Publication: Published January 1st 2016 | Harlequin Medical Romances |
Sports physician Dr Ali Lockhart is leaving the ghosts of her life-changing accident behind. A Valentine's fling is just what she needs before starting her new job… but then her handsome stranger turns out to be her new boss! And after that steamy night the forbidden promises to taste even sweeter…