One Night with the Forbidden Princess by Amanda Cinelli is the first story in the Monteverre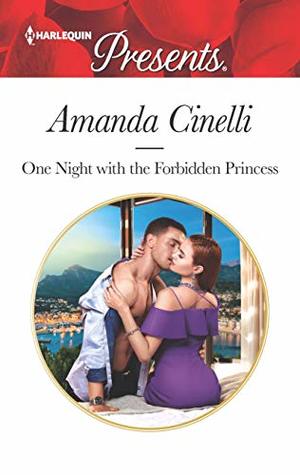 Marriages series and tells the sexy tale of a woman who is supposed to be married off in an arrangement by her parents, only to fall for the groom's best friend!
When security expert Roman Lazarov is tasked with infiltrating a palace, he doesn't expect his plans to be interrupted by a woman who seems to be one step ahead of him in a secret passageway no one should know about. But as it turns out, she's not a would be burglar – she's a Princess.
Princess Olivia of Monteverre doesn't have many avenues of escape from her life as a dutiful daughter in a royal family, expected to marry on demand for the good of her country. But she does know the ins and outs of the palace and how to get around for brief moments of respite, until she's caught by Roman. After that first meeting, he finds her once more as she's debating a real escape from the announcement of her engagement to a man she's never met, and offers her a chance to make up her mind in private; specifically, on his yacht, and then his remote Spanish island. Roman is determined to keep his hands off the woman who is supposed to marry his friend Khal, the Sheikh of Zayyar, though the circumstances of their 'engagement' are not what he'd expected. When their close quarters result in some passionate interludes, will the arranged wedding be off, and a real marriage take place instead?
I really enjoyed this royal romance! I was intrigued from the start as Olivia is caught in a bind of trying to do her duty while at the same time wanting the freedom to choose her own husband. This isn't quite a marriage of convenience romance as Olivia doesn't end up with her prospective bridegroom (who plays a part here, and likely will have his own romance in the series).
She and Roman get off on the wrong foot but somehow he becomes her rescuer and the time and space he gives her, as well as the heartfelt conversations make her brave enough to call off any attempt to go forward with the engagement. It also means she and Roman can be free to explore their own feelings for each other that turn from annoyance into something more.
Roman feels guilty for being attracted to Olivia, but not enough to stop himself from indulging in some sensual moments, especially when Olivia asks him to be her first lover. Their connection only grows from there, but both have moments of doubt before they figure out how to get their happy ending, and it's a sweet one at that! I'm looking forward to reading more in this series!

Book Info:

Publication: Dec 18, 2018 | Harlequin Presents | Monteverre Marriages #1
A hot Mediterranean seduction… of his virgin princess!
Hired to secure a palace, the last thing billionaire bodyguard Roman Lazarov expects to find is a princess scaling the castle walls! Facing an arranged marriage, runaway Princess Olivia pleads with him to allow her just one week of freedom and reluctantly he agrees. But when he's secluded with her on his private Spanish island Roman realises his mistake – his attraction to Olivia is forbidden, but explosively undeniable!