Cowboy Brave () by Carolyn Brown: Emily Baker, Activities Director at Oakmont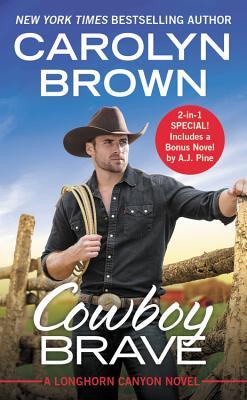 Retirement Center, wants nothing to do with cowboys or ranches. "Been there, done that!" That's not stopping the Fab Five, seniors at the center, from begging for a field trip to a ranch. Somehow Emily just can't tell them "No" so she contacts the Longhorn Canyon Ranch to ask about renting their bunkhouses for the seniors' retreat for a week.
Every summer the Longhorn Canyon Ranch invites underprivileged children to spend some time there so Emily hopes the owners will agree to this request for her special seniors. So that's where it all began, where Emily meets Justin Maguire. She makes quite a first impression on him as she arrives at the ranch to discuss the retreat. She's all dressed up, very business-like in a nice dress and high heels. Too bad she steps in a fresh pile of cow manure and there goes that good first impression. How embarrassing!
Justin Maguire wasn't looking for love. He still had a few wild oats to sow. But there is something about Emily Baker that starts him to thinking about a home and a family. He keeps being tempted to kiss Emily's sweet lips. "No, gotta keep things professional." How long will that last?
Cowboy Brave by Carolyn Brown is the third book in her Longhorn Canyon series. This story is just over 300 pages of warmth, humor and sweet romance. The secondary characters, especially the Fab Five, add much to the ambiance and laughs in this book. Carolyn Brown always manages to write "feel good" stories and this is definitely a "sit-down with a soothing drink, get comfortable and be pleasantly entertained" special read.
Book Info:

Publication: January 8th 2019 | Forever | Longhorn Canyon #3
This city girl's about to get a dose of cowboy charmEmily Baker doesn't rough it – anymore. Born and raised on a farm, she's worked hard to distance herself from that life, thank you very much. But when the seniors at the nursing home where she works beg for a ranch retreat, she caves and heads up to the Longhorn Canyon spread. With one glance at the sexy cowboy who opens the door, she's suddenly thinking a week with him might not be so bad after all.
Justin Maguire doesn't quite know what to do with the gorgeous woman who shows up on his doorstep. She's all curves and confidence-even after stepping in a cow pile. Too bad she's determined not to fall for a cowboy. But with the help of five nosy, matchmaking seniors, he might just convince her he's worth the risk.
SECOND CHANCE COWBOY Once a cowboy, always a cowboy! Jack Everett can handle working on the ranch, but turning around the failing vineyard he's also inherited? That requires working with the woman he never expected to see again.