In One Pink Rose (Clayborne Brides #1) by Julie Garwood, Oh, the things Travis Clayborne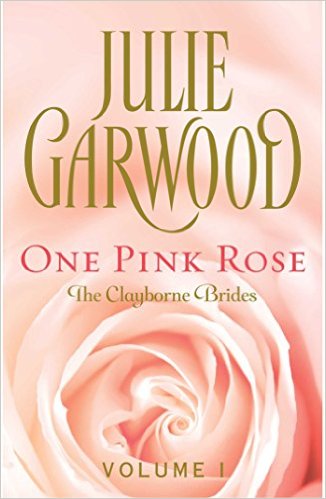 will do for his Mama Rose. Somehow he's gotten himself roped into escorting a young lady originally from Boston to meet her future husband in Golden Crest, Montana. It may not be a long trip from his home in Blue Belle, but Miss Emily Finnegan is doing her best to make it a memorable trip for them. From the first moment Travis lays eyes on her, he alternates from being smitten with her to being afraid she's going to do him bodily harm. But as crazy as Emily may seem sometimes, he has a feeling she's the woman meant for him.
'The woman was a walking plague.
They hadn't even gotten out of town before Travis was punched, kicked, tripped, and shot at, but not by anyone from Pritchard. No, it was Miss Emily Finnegan who tried to do him in.'
So far on her trip to Montana, nothing has gone right for Emily. From chaperones taking ill to now being escorted by a handsome single man, she just wants to make it to Golden Crest and meet her future husband, Mr. O'Toole. But as her travels with Travis continue forward, she can't deny her attraction to him. Even though she's trying to. He somehow has the ability to make Emily laugh as well as listening to her opinions that then leads to lively debates that she so enjoys. She's almost sorry she's trying to act shy and meek in preparation of meeting O'Toole considering how strong and feminine Travis makes her feel when she's just being herself.
"You won't ever be able to keep up the charade of being a delicate little flower in need of pampering, Emily."
"I am delicate, damn it."
He snorted with disbelief. "You're about as fragile as a grizzly bear."
One Pink Rose was a highly entertaining Western Historical Romance novella that was originally released in 1997 as part of the novel, For The Roses. This introduction into the Clayborne family kept me laughing while I fell for our hunky hero Travis and cheered our feisty heroine Emily on to find the man who would treat her right.
'She could be a real charmer all right. She was also an amazingly feminine creature, and if she could only learn to be a little less crazy, she'd be just about perfect.'
I had such fun reading this short story. From the quirky, totally likable characters to the humorous bantering between our protagonists, the time absolutely flew by as I followed along on their journey. Set in 1880 in rugged Montana, the people were tough but still willing to help those in need. And that's exactly how Travis got talked into escorting Emily to meet her fiance for the first time. He was the type of guy who wanted to do the right thing but he didn't mind having a few laughs along the way. I loved how he figured out he could get Emily all riled up, not in a mean-spirited way though, debating everything under the sun during their travels. Their conversations were smart, showing their quick wit, and were quite hysterical.
Emily's personal growth was probably my favorite part. Well, aside from her bickering with Travis. She started off trying to change who she was by assuming a completely different personality but her true self kept coming through. Seeing her out of her element coming from Boston and ending up in the wilds of Montana showed that she was quite tough. Emily proved to be stronger than she or even Travis thought and that was great to watch. The spark of attraction between them started off right away and slowly developed, turning into something that was all-consuming. I really liked how things played out between Emily and Travis and felt like it progressed in a fitting manner given that this was a novella-length story.
Whether or not you've read One Pink Rose before, I think readers will enjoy this romance immensely. The great cast of characters and ambitious storyline more than holds up nineteen years after its initial release.
Book Info:

Publication: Published May 9th 2016 (first published 1997) | Pocket Star | Clayborne Brides #1
#1 New York Times bestselling queen of romance Julie Garwood "knows how to reach out and touch readers' hearts" with this "laugh-out-loud little read…all delight, pure fun, and yummy" (RT Book Reviews), the first of her beloved Clayborne brothers novellas to be available as a separate ebook—at an irresistible price!
THE CLAYBORNES ARE BACK, AND LOVE IS IN BLOOM!
First introduced in Julie Garwood's magnificent New York Times bestseller For the Roses, the Clayborne brothers of Blue Belle, Montana, have been embraced by millions worldwide. Their story begins in One Pink Rose.
Travis Clayborne may be the youngest of the Clayborne brothers, but he's most definitely his own man—unless it means saying no to his beloved Mama Rose. And that's why Travis is escorting young Bostonian Emily Finnegan to Golden Crest, Montana to her new home as a mail-order bride. Emily has made it perfectly clear that she's taken charge of her destiny and nothing is going to interfere, not even falling in love with a perfect stranger. But they don't call it the wild west for nothing…