One Snowbound New Year's Night by Dani Collins is the absolute definition of what I adore about reunion stories.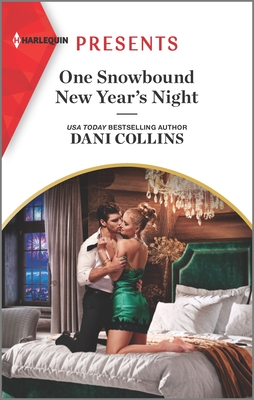 Rebecca knows it's time to finalise her divorce but she's desperate to locate her little golden locket. Worthless dollars wise the locket has invaluable sentimental value. Knowing that his ex-wife is about to visit their home, Donovan Scott absolutely busts his all to arrive there too. Snowed in and unable to leave Becca and Van are forced to dissect their marriage and find closure.
It is so clear that Becca and Van love each other. This shines through in Dani Collins incredible ability to drum up emotion and angst. I love her style of writing for this reason. As each page turned, I was happy, sad, I'm sure I teared up at points and I absolutely 100% was on their side the whole way through. The dinner scene was heart-breaking. I could feel Van lose control. I could feel Becca's heart cracking. As Becca's reasons to leave the marriage slowly started being revealed and family dramas were being unpacked, along with lots of misunderstandings aired, Becca and Van also face their attraction which blew the book right up into scorching flames!
One Snowbound New Year's Night was picture perfect in my mind. It ran like a beautiful white- Christmas movie. I give this story 5 stars because there is not one thing I would change. And if an author can write an entire book set in 24 hours which left me feeling no less satisfied than a story spread over a longer time period, I think that's skill which deserves a huge high five! The conclusion was edge of seat material and the epilogue was beautiful.
I will be reading this book again!

Book Info:

Publication: January 2021 | Harlequin Presents |
Rebecca Matthews has one New Year's resolution: divorce Donovan Scott. So being snowbound with him at his mountain mansion is not part of the plan. Especially when it's clear the sizzling chemistry that led to their elopement is still very much alive!
Van wants to know the real reason Becca left—it's clear there's more to tell. With only twenty-four hours before the snowstorm clears, it's time for them to gain some much-needed closure. That's if, of course, they can resist a final explosive encounter…