In One Summer in Paris by Sarah Morgan, As a happy wife, mother and teacher, Grace is living the life she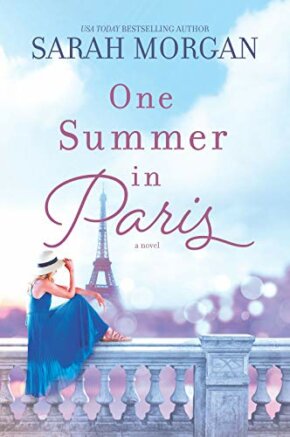 has always dreamed of–albeit in a tightly controlled and organized way. So the last thing she expected when she went out on her twenty-fifth wedding anniversary with her husband was for him to drop a bombshell that he wanted a divorce. Or that he had found someone else. Grace is shattered, of course. And suddenly the romantic getaway she had planned for them to Paris over the summer becomes a reminder of what she's just lost. After being backed into a corner, she decides to go to the city of lights on her own and figure out her life as a newly single woman in her late forties. Little did Grace know her past would make a reappearance. Or that she would meet a young woman who would become one of her best friends for years to come.
'Her opinion of Audrey had been high from that first day…but now it was off the scale. She had nothing but admiration for this brave, fierce, warm, loving young woman.'
London holds no appeal for eighteen-year-old Audrey after finally finishing her exams in her last year of school. Used to basically being on her own anyway, she takes off for Paris with thoughts of freedom and new adventures in her head. It never occurred to her that she would still feel lonely, just in a different location. Not speaking the language is a huge issue for Audrey. But the lack of money and accommodations is her main concern. The little bookstore she finds out about with a job and the room that goes along with it is her key to fixing those problems, although things start rough. It's when she meets Grace, a woman likely old enough to be her mum, that her life takes a huge turn for the better. The friendship and care Grace shows her means everything to Audrey. She only hopes she can do the same and be there for her new confidant as their time in Paris continues.
'Audrey discovered that trusting someone and letting them close pushed away that horrible feeling of loneliness that she'd lived with for so long.'
An absolutely lovely story about the importance of friendship and the real life issues and choices we all must face, One Summer in Paris swept me off my feet with its honesty and dynamic characters.
'It was heartening to think that new friendships could form at any stage of your life, and a reminder that stepping out of the safe, predictable circle of your life almost always reaped rewards.'
Whether it's contemporary romance or women's fiction (this book was the latter) Sarah Morgan can certainly turn a phrase. There is always an easy flow to her writing, with each scene and character interaction fitting the storyline to perfection. With One Summer in Paris, the gorgeous location was the perfect backdrop for two different generations of women going on personal journeys to sort their lives out. But it was Grace and Audrey themselves who completely stole the show for me, with their individual issues they were battling and with the authentic bond that formed between them.
I do love novels with multi-generational characters in them. It's fun to watch how differently they see or even approach situations, which was certainly the case with Audrey and Grace–and even Grace's grandmother Mimi who was pivotal in this story. They couldn't have appeared to be more different. But looks were deceiving. They understood each other on a very basic level, having been through similar troubling childhoods. And even though Grace had a daughter the same age as Audrey, I really felt like they treated one another as girlfriends rather than like a mother/daughter relationship. Although there were times that it did creep in–but it felt natural and I thought Morgan reflected all of the facets of their complicated bond extremely well.
A stunning example of women's fiction at its finest, One Summer in Paris is sure to be a winner for readers who enjoy a bit of romance, some beautiful scenery, and a look at how women of any age can lift each other up when they most need a helping hand.
Book Info:

Publication: Published April 9th 2019 | HQN Books |
"Morgan is a masterful storyteller, and readers will be fully immersed in this realistic but magical summer in Paris. Packed full of love, loss, heartbreak, and hope, this may just be Morgan's best book yet. For fans of Jojo Moyes, Taylor Jenkins Reid, and Stacey Ballis" -Booklist Review on One Summer in Paris
USA TODAY bestselling author Sarah Morgan returns with this heartwarming novel about the power of friendship, love and what happens when an ending is just the beginning…
To celebrate their twenty-fifth wedding anniversary, Grace has planned the surprise of a lifetime for her husband—a romantic getaway to Paris. But she never expected he'd have a surprise of his own: he wants a divorce. Reeling from the shock but refusing to be broken, a devastated Grace makes the bold decision to go to Paris alone.
Audrey, a young woman from London, has left behind a heartache of her own when she arrives in Paris. A job in a bookshop is her ticket to freedom, but with no money and no knowledge of the French language, suddenly a summer spent wandering the cobbled streets alone seems much more likely…until she meets Grace, and everything changes.
Grace can't believe how daring Audrey is. Audrey can't believe how cautious newly single Grace is. Living in neighboring apartments above the bookshop, this unlikely pair offer each other just what they've both been missing. They came to Paris to find themselves, but finding this unbreakable friendship might be the best thing that's ever happened to them…