In One Week Girlfriend by Monica Murphy, Fable's somewhat dreary day to day existence changes completely when college football star Drew asks her to pretend she's his girlfriend for a week. Originally in it for the money that will help her and her little brother out, Fable accepts but is soon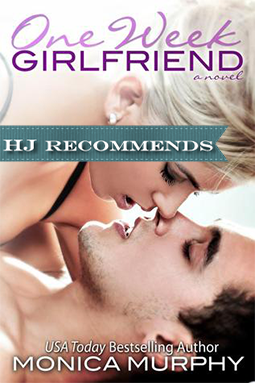 mesmerized by Drew and his tenderness toward her.
'There's such despair in his eyes, my chest aches for him. This perfect, beautiful boy is not so perfect after all.'
Fable is shocked by how messed up Drew's home life is on their trip there for the holiday. She wants to help him battle his inner demons but isn't sure she's the right person to do so. Then family secrets come to light and Fable becomes determined she will be there for Drew in any way she can. He's been dealing with things too long on his own.
'I want to tell Fable everything but I can't. I'm scared she'll hate me. Judge me. Be so disgusted by me she'll leave.'
On the outside, Drew appears to have it all. He's from a wealthy family, gets good grades, he's a football star at college. But inside he's an absolute mess, hiding secrets and feeling guilty for his dark past. His idea to have Fable accompany him home to act as a buffer blows up when he begins to care about her. And he hasn't let himself care about anyone for a long time to avoid getting hurt. He doesn't want to avoid what he feels for Fable. For the first time in forever, he has someone on his side. But will Drew push her away when things get too real?
'Hell, I've craved this sort of connection with someone for years, always too afraid to believe in it. But I'm a believer now. Thanks to my one-week girlfriend. Thanks to Fable.'
One Week Girlfriend is the first in the Drew + Fable series by Monica Murphy. Like many books in the New Adult genre, this had a huge range of emotions and left me wondering why I do this to myself each time…getting my heart ripped open with these stories. But it's obviously worth it because I keep coming back for more!
First off, I have to say that I did really enjoy Monica's writing style. I guess I would say it's very observant. She writes each scene with incredible detail about the character and how they act, how they look at each other, how they say something. It sets the scene very well and it's easy to picture exactly what she's explaining to us. The majority of the story is about dark, heavy issues, family secrets and such, but there were still some upbeat moments and very steamy love scenes mixed in.
My heart really goes out to both Fable and Drew. Although their situations are very different, they both feel alone in their struggles. I think that's one of the reasons they latch onto each other so quickly and why their feelings are so raw and passionate. They can relate to each other on a level no one else ever has before. And what is it about a tortured soul like Drew that just makes us want to reach out and help them in any way possible? He saw Fable as a lifeline but he didn't want to drag her down too, which just makes me want to like him even more, darn him. With that one word, marshmallow, he just made me melt. You'll see…
Get ready for an absolute roller coaster ride when you read One Week Girlfriend. It will have you feeling every emotion imaginable…but it's completely worth it.
Book Info:

HJ Recommends 
Published: Bantam (August 27, 2013)|  Series: One Week Girlfriend #1
New Adult Contemporary Romance
**Mature situations and sexual content – recommended for ages 17+**
Temporary. That one single word best describes my life these last few years. I'm working at a temporary job until I can finally break free. I'm my little brother's temporary mother since our mom doesn't give a crap about either of us. And I'm that temporary girl all the guys want to get with because I give it up so easily. According to the rumors, at least.
But now I'm the temporary girlfriend of Drew Callahan, college football legend and all around golden guy. He's beautiful, sweet—and he's hiding way more secrets than I am. He's brought me into this fake life where everyone seems to hate me. And everyone seems to want something from him. The only thing he seems to want though is…
Me.
I don't know what to believe anymore. All I know is, I think Drew needs me. And I want to be there for him.
Forever.