The Dysfunctional Test by Kelly Moran is a really good novel. The story is a wonderful combination of love, angst, and honesty.
In just one day, Camryn Covic's life of contentment comes to a screeching halt. Her job is eliminated, her robotic boyfriend dumps her, and her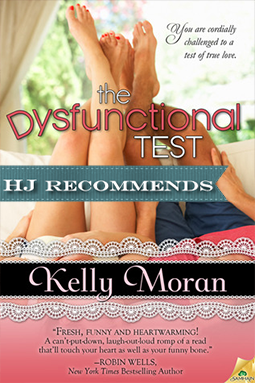 apartment lease is not renewed. To make matters even worse, she has to tell her crazy family that she has no date for her sister's wedding in Colorado at the end of the week, which in their eyes is a major faux pas. Whoa, that's a lot for one person to handle!
Luckily Camryn is an unbelievably strong woman. She is able to put up with her family's harassment, her ex-boyfriend's unkind words and her Nana's voice of tyranny. How she keeps it together is beyond me, because if this were my family, I would have disowned them the minute I was physically and financially able. Due to Ms. Moran's intelligent character and story development, I felt Camryn's every hurt as if it was my own, and got angry, teared up and sobbed on her behalf.
Emily, Camryn's three year old niece is an absolute riot. She has a fabulous memory and remembers every adult word ever spoken and repeats them to others in no particular order whenever the mood strikes her. I just couldn't stop laughing! Emily always makes sure she is in the "know" and hangs on to all inappropriate verbiage in order to innocently embarrass members of her family. "Can I have some cockporn please" is a prime example.
Thank goodness Troy Lanske was fostered by the Covic's for a good portion of his childhood. He is treated like a member of the family and Camryn's brother Fisher is his best friend. So when Camryn asks him to be her fake boyfriend for the wedding, he reluctantly agrees. Camryn believes that convincing her family that she and Troy are a couple is easier than dealing with their constant pestering about being dateless.
The progression of Camryn and Troy's relationship is inspiring as well as sexy. They are two people that are truly destined to be together.
I really liked this emotional, well-written novel. The story is a little lengthy, but the characters are amazingly real, likeable and well conceived. Ms. Moran's words grab you from the very first line and never let go. I highly recommend this book!
Book Info:

HJ Recommends
Published September 24th 2013 by Samhain Publishing
"You are cordially challenged to a test of true love. "
Growing up in her large, crazy Serbian family, Camryn Covic became an expert at shutting down her emotions in order to maintain her sanity. But when she loses her apartment, her job and her boyfriend all in one day, she hits her breaking point.
Worse, if her family finds out she's single "again," her sister's upcoming wedding will be a disaster. The bride-to-be has a plan, though. A plan that involves an old friend, a pretend relationship…and the probability of ending up in a padded cell. This time for real.
Troy Lanske agreed to the crazy plan only because, when he was a lonely foster child, Camryn was his lifeline. But she isn't the idealistic girl he remembers. She's become so jaded that she doesn't even believe in love anymore.
He sets out to restore her faith in happily-ever-afters, but his plan backfires when the fake relationship begins to feel all too real. Falling for the one woman he can't have could mean losing more than just his honorary family. He could lose everything.
Warning: Contains a Playgirl-material hero and a woman who thinks she couldn't be any more wrong for him. Enter one "Big Fat Overly Romantic Serbian Family." Sit back and watch the magic happen. Enjoy!