One Wild Kiss by Jessica Lemmon is the second story in her Kiss and Tell series and features a sexy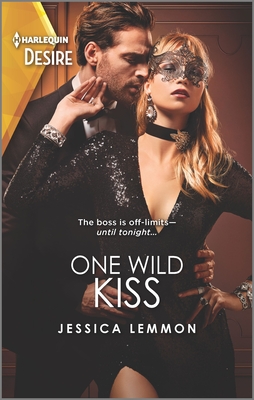 workplace romance.
Executive assistant Addison Abrams has had a crush on her boss, Brannon Knox for a while but when it seems clear that he's not going to be interested in her that way, she resolves to put it behind her and move forward. Except just when she's ready to do that, Bran suddenly starts to pay attention.
When Addison's car breaks down on the way to a friend's memorial weekend wake, it's Bran who comes to the rescue. And with the heightened emotions of the event and Bran playing the part of fake boyfriend it's easy to slip into a sexy and heated weekend affair. Initially promising to keep it to their time away, being back at home and back at work doesn't lessen the attraction. But are they ready to make it something more?
I really enjoyed the first in this series, His Forbidden Kiss, which introduced Bran and Addison as secondary characters. You don't have to read it to enjoy this one, though I recommend it as well. Other people have noticed Addison's attraction to Bran even if Bran himself is oblivious until it gets pointed out. At that point he has to make up for lost time since Addison is intent on being professional and putting her crush behind her. That all changes with their attendance at the wake weekend, an unusual affair meant to celebrate Addison's friend Joe's life with a masquerade ball and other events designed to show people that life is for living. They take full advantage of that and it leads to some passionate love scenes.
Back home, Addison thinks they are on the same page, developing a relationship but Bran is the one who gets cold feet. He has to make it up to her with some epic groveling before they can get their happy ending. I liked the uniqueness of this plot (Joe's life celebration is epic) and the character growth. It's an entertaining and enjoyable read.
Book Info:

Publication: Apr 01, 2020 | Harlequin Desire | Kiss And Tell #2
The boss is off-limits—
until tonight…
"I vow to have you in bed by midnight."
Executive assistant Addison Abrams has vowed to get over her crush on her billionaire boss, Brannon Knox. But he has other plans. Soon an unexpected road trip becomes a weekend away where the itinerary includes a masquerade ball. Before the night is over, the masks come off, and one wild kiss leads to a red-hot fling that leaves them reeling. Now Addi is fighting off feelings and wondering if one weekend could ever be enough…