Beefcakes by Katana Collins: What do you get when you combine a hot former stuntman and cupcake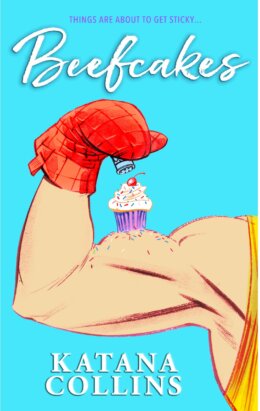 frosting? The recipe for the best bachelorette party that's what you get. Unfortunately for town manager and reformed party girl, Elaina this was definitely not the type of cupcakes that she had ordered for her sisters bachelorette party. Add in the fact that the beefcake delivering said cupcakes was her high school boyfriend, who upped and left her without so much as a goodbye. To say Elaina is less than pleased to see Neil back in town is by far the understatement of all time.
"I've spent ten years missing you. Ten years of dating women and comparing the time spent with them to our year together… and they always fell short. I'm done with that. I want you, Elaina. I want what we had in high school… only better . I want it all, the good, the bad, the mundane daily tasks, and the adventures."
After an unfortunate shoulder injury former Mr. Universe, Neil, finds himself back in his hometown of Maple Grove helping his brothers run their mother's bakery, while she fights cancer. When a meme of Neil posing shirtless while balancing a cupcake on his bicep goes viral, the boys are shocked by the influx of new customer that it brings to their small town bakery. But these new customer are not the only thing that comes into town, the fame from this meme also brings in an offer to take part in a reality baking show. The prize money alone is enough to convince Neil to do it, after all this money could go along way in helping paying of his mother's medical bills and keeping their business afloat, however there is a catch, the show producers want Elaina to star alongside Neil.
With a big chain store eyeing a piece of land in their small town, Lainey is in dire need of a cash injection to help preserve her beloved Maple Grove's small town charm, because of this she reluctantly agrees to do this 'bachelor-bake off' style show. Through the course of filming the pair are brought closer while competing in quirky challenges. While trying to navigate the uncertain water of their relationship.
"His mouth covered mine, and his kiss swallowed the rest of my objections. It wasn't a sweet kiss. And it wasn't gentle . I gasped against his mouth as he tugged my body flush against his, the wall of muscle hard and firm against my soft curves. His kiss was hot and urgent, and he tasted like tiramisu."
Beefcakes was an absolutely adorable second chance romance. I loved watching the relationship between Lainey and Neil heal and grow into something beautiful and understanding. They balance each other out so perfectly while bring out the very best in each other. I think what really made this novel stand out from other romance novels was the amount of love, firstly between Lainey and Neil, but also for their town and their families. Another thing I loved was their undeniable chemistry, which had me rooting for them from the very beginning.
"I've never been more sure of anything in my life… I cannot wait to be Mrs. Beefcake."
This was my first book by Katana Collins, I do have to say it is one of my favorites for 2020. Collins has done a wonderful job at touching on a range of topics all while keeping it a lite read. I can not wait to see what she has in store for us with Liam's book.
Book Info:

Publication: March 24th 2020 | Katana Collins |
Things are about to get sticky…
I might as well permanently add the label "Ex" to my name. I'm an Ex-Mr. Universe. Ex-Mr. Olympus. An Ex-Hollywood Stuntman. But no one from my small hometown cares anything about that. They only care that I'm the ex-boyfriend to the beloved Mayor's daughter, Elaina Dyker.
And now, ten years later, I'm back, helping my siblings run my mother's bakery while she takes on chemo. What should have been a routine cupcake delivery turns into utter chaos when the bachelorette party thinks I'm a stripper. And what's worse? Elaina is the maid of honor.
But the meme about us sure went viral fast. My small hometown has become positively infested with tipsy bridesmaids looking for my erotic cupcakes.
Now Hollywood's knocking again—and this time they want me and my ex, Mr. Beefcake and Ms. Prude, to star in a reality show.
It could solve all my problems—except her.